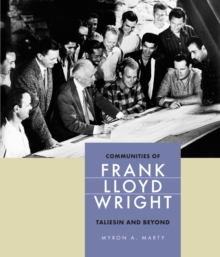 Communities of Frank Lloyd Wright : Taliesin and Beyond
Hardback
Description
This is a groundbreaking study of Wright's life in relation to Taliesin and his other communities.
Despite the numerous studies of Frank Lloyd Wright's life and architecture, little has been published about his life in relation to the communities that dominated his life.
Wright, a fervent believer in individualism and an ardent advocate of democracy, worked in communities throughout his career of more than six decades.
These communities, which he led with unquestioned authority, made possible his extraordinary productivity.
They also helped sustain his genius, provided him with crucial social outlets, and made it possible for him to remain a creative force outside the mainstream of American architecture until his death at age 92.
Almost immediately after arriving in Chicago in 1887, Wright began working in the company of architects and draftsmen, most notably Joseph Lyman Silsbee, Dankmar Adler, and Louis Sullivan.
In 1893 he opened his own practice in downtown Chicago and formed relationships with communities of young architects and draftsmen there.
Five years later Wright moved his venture to his home and studio in Oak Park. Although his community of coworkers there was highly productive, in 1909 he abandoned them, his practice, and his family, turned his projects over to others, and left for Europe with his mistress.
In the next twenty years he formed incidental communities wherever his work took him, including Europe, Japan, California, and Arizona, while maintaining his base at Taliesin, his home near Spring Green, Wisconsin.
In 1932, after years of hardship, Wright and his third wife, Olgivanna, founded the Taliesin Fellowship, a community of apprentices and assistants.
Five years later the Fellowship began to spend winters at Taliesin West, a camp he designed in Scottsdale, Arizona.
When Wright died in 1959, his widow became the Fellowship's unchallenged leader, and she remained so until her death 26 years later.
Marty's groundbreaking work is neither a biography of Wright nor a study of his architecture; rather, it is the story of his life in communities, particularly the Taliesin Fellowship.
This study will be of interest to Wright scholars and enthusiasts, architects, architectural historians, and architecture students. Myron A Marty is the coauthor, with Shirley Marty, of Frank Lloyd Wright's Taliesin Fellowship.
A former member of the Board of Trustees of the Frank Lloyd Wright Foundation as well as the Board of Taliesin Preservation, Inc., Marty is the Ann G. and Sigurd E. Anderson University Professor Emeritus and Dean of Arts and Sciences Emeritus at Drake University.
Information
Format: Hardback
Pages: 338 pages, 75 b/w illustrations
Publisher: Northern Illinois University Press
Publication Date: 23/03/2009
ISBN: 9780875803968
Free Home Delivery
on all orders
Pick up orders
from local bookshops