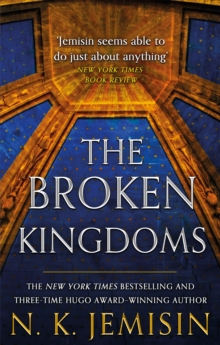 The Broken Kingdoms
Paperback
Description
In the city of Shadow, beneath the World Tree, alleyways shimmer with magic and godlings live hidden among mortalkind. Oree Shoth, a blind artist, takes in a homeless man who glows like a living sun to her strange sight.However, this act of kindness is to engulf Oree in a nightmarish conspiracy.
Someone, somehow, is murdering godlings, leaving their desecrated bodies all over the city. Oree's peculiar guest is at the heart of it, his presence putting her in mortal danger - but is it him the killers want, or Oree? And is the earthly power of the Arameri king their ultimate goal, or have they set their sights on the Lord of Night himself?
Information
Format: Paperback
Pages: 416 pages
Publisher: Little, Brown Book Group
Publication Date: 01/11/2010
Category: Fantasy
ISBN: 9781841498188
Free Home Delivery
on all orders
Pick up orders
from local bookshops
Reviews
Showing 1 - 1 of 1 reviews.
Review by shanaqui
16/06/2015
I've been looking forward to this book for what feels like ages! Not really, I suppose, since I read The Hundred Thousand Kingdoms in July, but it felt like ages, and I was so excited to get this book. I preordered it, and nearly skipped a class to make sure I could get the parcel when it arrived! And I was so annoyed when I just could not find time, between university and travelling and writing, to read it properly. The fact that I took so long to read it, compared to normal, is nothing to do with its quality -- except in that I refused to read it when I was tired, because I knew it wouldn't be as good that way, and it deserved to have my whole attention -- but just to do with how busy I was. I really, really enjoyed reading it: whenever I did sit down to read it, fifty pages would be gone just like that.<br/><br/>The Hundred Thousand Kingdoms has a very satisfying end on its own, and I'm glad this doesn't follow on from it immediately, or with the same characters. Oree is an interesting character on her own account, and I was especially pleased with the fact that she has a disability: she is blind. Granted, she is able to see magic, and the gods and their children, but for the most part, for everyday, ordinary things, she's unable to see. And the story becomes just as epic as the first, and follows on from it in many ways, without being a direct continuation: we see some of the other side of the story which was the background to the first book.<br/><br/>One thing I really love is about how the world Jemisin's built is just so... inclusive. There are polyamorous relationships and same-sex relationships without any judgement or fanfare. They're just there, a fact of life. The whole background of the story, everything that happens, arguably comes out of the jealous love between Itempas and Nahadoth, two male gods, and that isn't judged, or made more important than anything else, in the sense that for the people of this world, for the gods, it's just a fact. Just as much as for us, say, the marriage and divorce of Prince Charles and Diana is a fact.<br/><br/>The Broken Kingdoms makes me care very much about what is happening, too. Oree's feelings are believable, and I share her sympathies, despite what happened in the first book. Having a character called Shiny was a bit incongruous and off-putting, even if it was just a nickname, but I got used to that, too.<br/><br/>I loved it. It's definitely worth getting. It doesn't suffer from being a sequel, and it's not just The Hundred Thousand Kingdoms all over again: it is a story of its own, too. It might even be possible to read the two out of order without losing much, I think -- obviously you'd have a whole different perspective on the first book, but I think the two complement each other rather than depend on each other.
Also in the Inheritance Trilogy series | View all