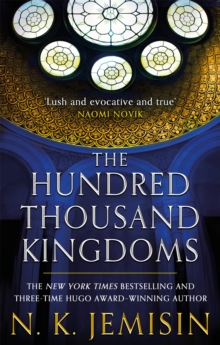 The Hundred-Thousand Kingdoms
Paperback
Description
Yeine Darr is an outcast from the barbarian north. But when her mother dies under mysterious circumstances, she is summoned to the majestic city of Sky - a palace above the clouds where gods' and mortals' lives are intertwined.
There, to her shock, Yeine is named one of the potential heirs to the king.
But the throne of the Hundred Thousand Kingdoms is not easily won, and Yeine is thrust into a vicious power struggle with a pair of cousins she never knew she had.
As she fights for her life, she draws ever closer to the secrets of her mother's death and her family's bloody history.
But it's not just mortals who have secrets worth hiding and Yeine will learn how perilous the world can be when love and hate - and gods and mortals - are bound inseparably.
Information
Format: Paperback
Pages: 448 pages
Publisher: Little, Brown Book Group
Publication Date: 01/01/2010
Category: Fantasy
ISBN: 9781841498171
Free Home Delivery
on all orders
Pick up orders
from local bookshops
Reviews
Showing 1 - 5 of 5 reviews.
Review by kergoth
16/06/2015
I was pleasantly surprised by this one. I hadn't heard much about it before deciding to check it out, and shortly into the book I started to feel like it may not be my cup of tea, but I'm glad I stuck with it. I found the characters to be interesting, the plot engaging, and the religion and "magic" intriguing. I'll definitely be watching this author in the future, and will be picking up the other books in this series.
Review by sonja_de
16/06/2015
definitely the best fantasy novel I read this year.
Review by generalkala
16/06/2015
I really can't decide what I make of this.On one hand, I really wasn't that bothered about finishing it. You know that when you're happy studying for a Land Law exam instead of reading, your book really isn't that good! I never got into it really, I just didn't care what happened.It also broke Commandment of Fantasy Books #1 - too many characters and locations with different names. I had to keep flicking back to try and remember who was who and I hate that.It's an odd criticism, but Yeine seems too young for all the gratutious sex. She's meant to be 20 but she 'feels' a lot younger.On the other hand, it's completely original with a unique set of characters. The development of the main few is interestingly carried out and the plot moves forward nicely.The main point is that I just didn't care about it.
Review by iftyzaidi
16/06/2015
Interesting and innovative new fantasy that doesn't try to do anything too fancy but develops its story well around its central concept. The first book of a planned trilogy but reads perfectly well on its own. I look forward to the next one.
Review by tronella
16/06/2015
An excellent antidote to Asimov. Believable female characters and everything! I really enjoyed this, even though I usually dislike books with sex scenes, because this one actually wove them into the plot pretty well. I'll probably pick up the rest of the series soon.
Also in the Inheritance Trilogy series | View all