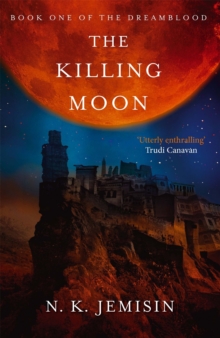 The Killing Moon : Dreamblood: Book 1
Paperback
Description
In the ancient city-state of Gujaareh, peace is the only law.
Upon its rooftops and amongst the shadows of its cobbled streets wait the Gatherers - the keepers of this peace.
Priests of the dream-goddess, their duty is to harvest the magic of the sleeping mind and use it to heal, soothe . . . and kill those judged corrupt.But when a conspiracy blooms within Gujaareh's great temple, Ehiru - the most famous of the city's Gatherers - must question everything he knows.
Someone, or something, is murdering innocent dreamers in the goddess' name, stalking its prey both in Gujaareh's alleys and the realm of dreams.
Ehiru must now protect the woman he was sent to kill - or watch the city be devoured by war and forbidden magic.
Information
Format: Paperback
Pages: 448 pages
Publisher: Little, Brown Book Group
Publication Date: 01/05/2012
Category: Fantasy
ISBN: 9780356500768
Free Home Delivery
on all orders
Pick up orders
from local bookshops
Reviews
Showing 1 - 5 of 12 reviews.
Previous | Next
Review by JeremyPreacher
16/06/2015
I liked this pretty much unconditionally. Fascinating magic system, believable characters with a variety of motivations, lovely and original setting, unmarked queerness, sold. <br/><br/>I'd like to see a little more deconstruction of the "women are goddesses therefore they need to stay in the kitchen" construct, which was pretty clearly set up for a righteous thrashing-out, but not followed through on much in this book, but the sequel's next on the stack so we shall see. That's not a complaint, mind you, just a callout of a bit of worldbuilding ripe for exploration.
Review by jen.e.moore
16/06/2015
Took me a while to get into it, but starting round about page 90, it just flew. Looking forward to book two.
Review by MlleEhreen
16/06/2015
This book and I didn't get along.<br/><br/>I <i>loved</i> N.K. Jemisin's Inheritance trilogy, and THE KILLING MOON has a <i>lot</i> in common with the Inheritance books. The three main characters, for example - Ehuru has a sexualized father/son mentor/mentee relationship to younger Nijiri, and the two of them have an antagonistic/sexualized relationship with the female lead, Sunandi. There are similar themes, too, of empires ready to fall, of virtues like order or compassion that turn toxic when given injections of power and magic. <br/><br/>Also like the Inheritance books, the language is stylized but here it struck me as leaden and distancing rather than lush and enveloping. And the worldbuilding is exquisite, but...well, but. I didn't care because the book was so <i>depressing.</i> There are no fun bits to balance out the betrayals and assassinations and double-crossings. The deeper I got into this world the more I wanted to turn around and crawl right back out. By the end I was practically begging for a Gatherer myself: please, make it end, put me out of my misery. <br/><br/>Because, yeah, the lead characters - Ehuru and Nijiri - they're mercy killers. It's their official, holy calling. They sneak into people's rooms at night and suck the magical lifeblood right out of them. Said magical lifeblood - dreamblood - is highly addictive and all the Gatherers are addicts. They're emotionless, detached, completely devoted to their goddess - their drug. If they go for too long without killing, they enter withdrawal. If they overdose, they turn into insane superaddicts. <br/><br/>And those are our heroes. Just imagine the villains and how depressing they are. Hint: so much more depressing. <br/><br/>In all seriousness, I just didn't attach to the main characters. Ehuru and Nijiri are hard to relate to - they're detached, emotionally deadened addicts - and they change over the course of the book in ways that made them even harder to understand and sympathize with. The female lead, Sunandi, ought to have been easier to relate to. She's a spy, which is fun, and she thinks that the whole concept of Gathering is crazy, which is sensible. But she doesn't get as much pagetime as Ehuru or Nijiri and, at the end of the day, she's not a warm person, either.<br/><br/>If you like your books dark, unrelentingly grim, and full of tragedy, pick this one up. Otherwise...well. Read another review and keep thinking. <br/><br/><br/>
Review by shanaqui
16/06/2015
I saved this duology for quite a while before reading, because I don't know when there'll be more of Jemisin's work for me to enjoy. And enjoy it always is: I was warned that my anxiety issues might be sparked a bit by the world set up here, but they weren't.<br/><br/>God, I loved the characters. Ehiru just -- at first I feared that he might be too sure of himself, too arrogant, or perhaps even worse, too perfect. But he wasn't perfect, and I ached for him, and for Nijiri because of how much he loved him. I loved that I hoped (hopelessly) for a happier end, for something I knew Jemisin wouldn't give her readers easily, or straightforwardly. And I loved the sense of peace at the end, the sense that despite everything, there could still be calm, there could still be love.<br/><br/>I loved the concept of the Gatherers, and I loved that we saw both sides of that story. I love that that isn't straightforward, either: that sometimes the Gatherers take people unwillingly, even if it's with peace and with love, and that the ethical issues there are so complicated. I loved that I felt pity for all involved, that there was no straightforward evil.<br/><br/>In summary, as usual, I think this was a masterful novel from Jemisin, and I can't wait to read The Shadowed Sun. Except perhaps I can, because ach, I don't want to have no more of her work lined up to read.<br/><br/>I think technically this falls somewhere between four and five stars for me: four for the plot, but five for how attached I got to Ehiru. So I'll give it five.
Review by newskepticx
16/06/2015
Not too much to say, I liked it and like a Hundred Thousand Kingdoms it is a much stranger, richer fantasy than I normally consume. May have to take a break but I will definitely read the second before the year is out.
Also in the Dreamblood series