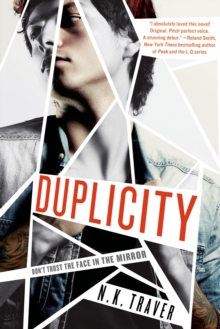 Description
In private, 17-year-old Brandon hacks bank accounts for thousands of dollars just for the hell of it.
In public, he looks like any other tattooed bad boy with a fast car and devil-may-care attitude.
He should know, he's worked hard to maintain that facade.
With inattentive parents who move cities every two years, he's learned not to get tangled up in friends and relationships.
So he'll just keep living like a machine, all gears and wires.
Then two things shatter his carefully-built image: Emma, the kind, preppy girl who insists on looking beneath the surface - and the small matter of a mirror reflection that starts moving by itself.
Not only does Brandon's reflection have a mind of its own, but it seems to be grooming him for something- washing the dye from his hair, yanking out his piercings, swapping his black shirts for...pastels.
Changes he can't explain to his classmates, who think he's having an identity crisis, and certainly not to nosy Emma, who thinks this is his backward apology for telling her to get lost.
Then Brandon's reflection tells him: it thinks it can live his life better, and it's preparing to trade places. And when it pulls Brandon through the looking-glass, not only will he need all his ill-gotten hacking skills to escape, but he'll have to face some hard truths about who he's become.
Otherwise he'll be stuck in a digital hell until he's old and gray, and Emma and his parents won't even know he's gone.
Information
Format: Hardback
Pages: 256 pages
Publisher: St Martin's Press
Publication Date: 17/03/2015
Category: Science fiction
ISBN: 9781250059147
Free Home Delivery
on all orders
Pick up orders
from local bookshops