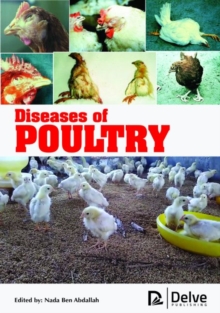 Diseases of Poultry
Hardback
Description
Poultry industry has become a very significant element in the agricultural sector worldwide.
It is also important to consider the fact that technological advancement and innovation has contributed greatly towards improving the effectiveness and efficiency in poultry production, especially when it comes to nutrition, housing of the poultry, genetic and disease, and health management in poultry. In the last few decades, poultry industry has encountered several challenges, including avian influenza outbreak in Asia that spread throughout 2005 and early 2006.
There are several factors that influence the economic viability of today's poultry production.
For poultry business to flourish and be successful, all these factors must be accounted for.
Poultry disease is one of these factors that play a significant role.
This book has highlighted various diseases that must be controlled and improved. The purpose of this poultry book is to offer important insights and references about general health and various diseases for poultry to those involved in the industry.
Although this book has been written conclusively to meet all requirements of diseases in poultry farming, it has also incorporated all the relevant information that can be used by agricultural students, veterinary professionals, teachers, poultry management staffs and consultants, and even various governmental staffs involved in agricultural sector. Therefore, it was considered necessary to update the content of this book with fundamental format.
For instance, there are several chapters on various diseases that affect poultry production.
These included diseases related to bacteria, fungi, virus, parasitic, nutrition deficiency, malformations and other defects in poultry.
Reclassification of each chapter was done to provide in-depth description of causal factor, prevention, and treatment of the diseases. Productivity and profitability in poultry are improved through the application of viable principles of biosecurity, vaccination, and proper poultry farm management.
This helps in reducing potential losses that result from both erosive and catastrophic poultry infections. There are several protective and control measures given to help in dealing with occurrence of these diseases.
These include maintaining strict hygienic programmes as well as biosecurity to keep these diseases out of poultry.
Additionally, the book provides information on various poultry diseases aspects, such as transmission, clinical signs and symptoms, diagnosis, treatment, and control measures.
Information
Format: Hardback
Pages: 224 pages
Publisher: Arcler Education Inc
Publication Date: 01/11/2017
Category: Veterinary medicine
ISBN: 9781773612966
Free Home Delivery
on all orders
Pick up orders
from local bookshops