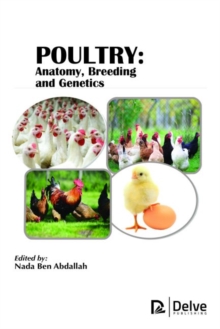 Poultry : Anatomy, Breeding and Genetics
Hardback
Description
Poultry is one of the fastest growing and developing subsectors in agricultural industry.
There has been unprecedented growth in production of poultry meat and egg attributed by proper genetic selection, breeding, housing, and feeding programs in this subsector. Poultry rearing for egg and meat production has been the primary business for many people in different places around the world.
Poultry has also been and still is a key animal product in most diets consumed worldwide.
With various advancements achieved in preservation of techniques for poultry products and processed products, preference of consumers for poultry and poultry products are higher than ever.
Basic information on the technology and science used in production and processing this crucial food commodity is significant to the work of academia, governments, and industry. Several good and professionally prepared reference books are available, but the preference for any specific book greatly depends on the needs for the reader.
Most of the poultry reference books are single-volume books, and some books only cover general topics, whereas others cover specific poultry topics.
This book has been prepared to provide essential information about poultry anatomy, breeding and genetics to all those student taking poultry management courses, veterinary professionals, teachers, poultry management staffs, and even various governmental staffs involved in agricultural sectors.
The general science and various production practices presently in use in poultry industry have been characterised and well described so that the reader can acquire insights into the industry. The book has been divided into four sections. Section one deal with general information on poultry rearing and it consist of only one chapter.
Section two deals with background information on poultry anatomy and physiology and consists of two chapters.
Section three deals with poultry breeding and consists of four chapters.
Lastly, section four dealing with poultry genetics consists of three chapters. In order to perform post-mortem on poultry and be able to evaluate various internal and external diseases of poultry that influence viability of a breeding program, students should understand the key anatomic components of poultry.
This book is essential because it has relevant information on various anatomic systems of a bird-both internal and external (second section).
It has also elaborated in details about various genetic principles and how they influence poultry breeding and production practices. More emphasis have been put in breeding and production of meat type chickens and egg producing poultry birds because these are the two key areas where most breeders and producer focus on.
Specific areas tailored towards minimizing production costs while maximizing overall production have also received much of the attention, specifically on the third and fourth section of the book (poultry breeding and genetics).
Information
Format: Hardback
Pages: 253 pages
Publisher: Arcler Education Inc
Publication Date: 01/11/2017
Category: Animal husbandry
ISBN: 9781773612485
Free Home Delivery
on all orders
Pick up orders
from local bookshops