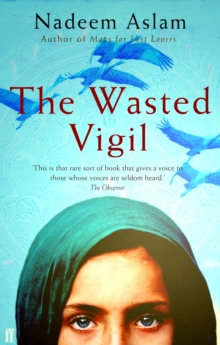 The Wasted Vigil
Paperback
Description
A Russian woman named Lara arrives in Afghanistan at the house of Marcus Caldwell, an Englishman and widower living in the shadow of the Tora Bora mountains.
Marcus' daughter, Zameen, may have known Lara's brother, a Soviet soldier who disappeared in the area many years previously.
But like Marcus' wife, Zameen is dead; a victim of the age in which she was born.
In the days that follow, further people arrive at the house: two Americans who have spent much of their adult lives in the area; a young Afghan teacher; and a radicalized young man intent on his own path. And Nadeem Aslam paints a moving, beautiful and powerful portrait of a land and a people torn apart through love and war.
Information
Format: Paperback
Pages: 448 pages
Publisher: Faber & Faber
Publication Date: 04/06/2009
ISBN: 9780571238804
Other Formats
Hardback from £12.99
EPUB from £6.39
Free Home Delivery
on all orders
Pick up orders
from local bookshops
Reviews
Showing 1 - 3 of 3 reviews.
Review by jintster
16/06/2015
If The Kite Runner and A Thousand Splendid Suns haven't sated your appetite for reading about the misery of modern Afghanistan, this book surely will. A British doctor long resident in Afghanistan, a former CIA agent, the sister of a Russian soldier and a Muslim fundamentalist come together, rather implausibly, at the Doctor's house. Aslam has a fine writing style with touches of poetry, littered with well worked symbolism. The novel's main failing is that it is a polemic masquerading as a story. The unlikely gathering referred to above gives you a hint - Aslam uses the book to pillory those who have turned Afghanistan into an earthy hell over the last 30 years. Few escape his wrath - the Soviets, the Americans, the Pakistanis (especially the ISI) but above all of these put together, the Taliban and likeminded fundamentalists. Aslam doesn't take the easy option of saying that the Taliban are exceptions in a basically peaceful religion. Instead, he points out via quotes from the Koran that Islam was born in war and is at its heart a violent religion based on the conversion or death of all non-Muslims. A worthy novel but ultimately too obviously a vehicle for its writer's anger to be wholly successful as a story.
Review by pjpjx
16/06/2015
fascinating, but almost painful to read at times
Review by stowkate
16/06/2015
Beautifully written, and as described by Peter Parker (Sunday Times) 'An ambitious and luminous novel....' How sad the damage we cause the world and ancient artefacts around us.