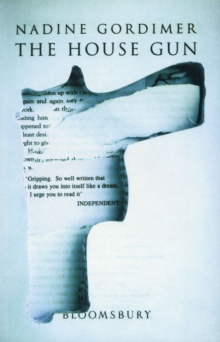 Description
How else can you defend yourself against losing your hi-fi equipment, your TV set and computer, your watch and rings?
A house gun, like a house cat; that is a fact of ordinary life in many cities of the world as we come to the end of the twentieth century, especially in South Africa.
At this time the successful, respected executive director of an insurance company, Harold, and his doctor wife, Claudia, for whom violence could never be a means of solving personal conflict, are faced with something that could never happen to them: their son has committed murder.
What kind of loyalty do a mother and a father owe a son who has committed this unimaginable horror?
What have they done, in influencing his character; more ominously, where is it they have failed him? "The House Gun" is a passionate narrative of love being particularly complex between parents and their children.
It moves with the restless pace of living itself, from the intimate to the general condition; if it is a parable of present violence, it is also an affirmation of the will to human reconciliation that starts where it must, between individuals.
Information
Format: Paperback
Pages: 304 pages
Publisher: Bloomsbury Publishing PLC
Publication Date: 01/02/1999
ISBN: 9780747542575
Free Home Delivery
on all orders
Pick up orders
from local bookshops
Reviews
Showing 1 - 2 of 2 reviews.
Review by herschelian
16/06/2015
Very thought provoking on several levels, this is the story of a respectable, moral, middle-class South African couple whose son commits a terrible crime. The effect of his crime on his parents, their anguish and incomprehension are very real. I think this is one of Gordimer's finest novels.
Review by miketroll
16/06/2015
In modern day South Africa, the architect son of a white professional couple (she doctor, he company director) is arrested and charged with the murder of a house mate. He is manifestly responsible for the shooting. His parents engage a smart black defence lawyer.Nadine Gordimer's novel was interesting more than enjoyable. In fact I didn't like it much at all, even though some of the writing is of high quality.The son, the murderer, remains an enigma throughout. He says next to nothing in his own defence and makes no effort to "explain" his act. Parents and lawyer are left to exercise their minds on this question, to formulate plausible mitigation and to find their own peace with the son's fateful deed.And exercise their minds they do - oh yes! - repetitiously, tediously retracing the sequence of events leading to the murder, In this there may be verisimilitude, but it lends the novel a dull, static quality. There is no unfolding, no revelation. We know as much but no more at the end than we did at the beginning. There is also no light relief in the narrative, no jokes, little irony. Rather an intense intellectual earnestness about the entire work. It was this aspect that I found interesting, perhaps typical of South African writers. For conscientious citizens trapped in the bizarre unreality of the apartheid era, turning inward for solutions must have been a commonplace response. As reader, one can feel the neurosis, the constant nervous strain of it all.