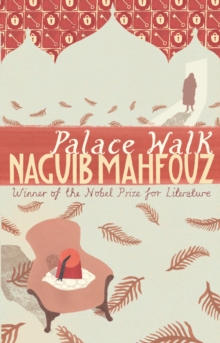 Palace Walk : Cairo Trilogy 1
Paperback
Description
A sweeping and evocative portrait of both a family and a country struggling to move toward independence in a society that has resisted change for centuries.
Set against the backdrop of Britain's occupation of Egypt immediately after World War I, Palace Walk introduces us to the Al Jawad family. Ahmad, a middle-class shopkeeper runs his household strictly according to the Qur'an while at night he explores the pleasures of Cairo.
A tyrant at home, Ahmad forces his gentle, oppressed wife and two daughters to live cloistered lives behind the house's latticed windows, while his three very different sons live in fear of his harsh will.
Information
Format: Paperback
Pages: 512 pages
Publisher: Transworld Publishers Ltd
Publication Date: 01/08/1994
ISBN: 9780552995801
Free Home Delivery
on all orders
Pick up orders
from local bookshops
Reviews
Showing 1 - 3 of 3 reviews.
Review by hellbent
16/06/2015
Excellent synthesis of modern Egyptian culture with the history of overthrow of the British protectorate early in the 19th C.
Review by benjaminorbach
16/06/2015
This is literature. As a writer, I found this book to be both a humbling and inspiring experience.
Review by starbox
16/06/2015
A superb read; first in the Cairo Trilogy, telling the saga of a middle-class family living under the hated British Protectorate. Head of the house, Ahmad, is brilliantly and convincingly drawn - on the one hand he is a strict Muslim, demanding his wife and daughters live in total seclusion, and keeping all the family in a state of terror at his displeasure, yet every night he goes out on the town with his worldly friends to enjoy wine, women and song.'Was he two separate people combined into one personality? Was his faith in the divine magnanimity so strong that he could not believe these pleasures really had been forbidden?...He found within himself strong instincts, some directed toward God and tamed through worship and others set for pleasure and quenched in play.'His meek wife, Amina, devotes herself to pleasing him, never questioning his nocturnal excursions, while she looks out on the world through the slits in the shutters. With them lives stepson Yasin - child of a previous, unfavoured wife - who seems to be inheriting his father's immoral ways- and their own four children: sons Fahmy, a law student, becoming increasingly passionate about the anti-British movement, and mischievous schoolboy Kamal plus two daughters awaiting marriage: beautiful Aisha and her older sister, plain, sharp-tongued Khadija.I couldn't put this down, and intend to read the other two works in near future. Utterly recommended: an Egyptian Tolstoy.Leaves the female reader glad she doesn't live in an early 1900s Egyptian home, when she reads quotes like:'No daughter of mine will marry a man until I am satisfied that his primary motive for marrying her is a sincere desire to be related to me...me...me...me' and'Women are just another kind of domestic animal and must be treated like one'. !!