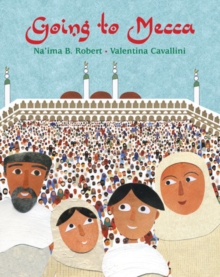 Description
"Come with the pilgrims as they set out on a journey, a journey of patience to the city of Mecca." We are led on the journey of a lifetime to the city of Mecca - the pilgrimage known to Muslims as the Hajj.
The pilgrims walk with heads bare and feet in sandals; they call to Allah; they kiss or point to the Black Stone, as the Prophet did.
Arriving at Mecca, they surge round the Ka'aba, shave their heads and travel to Mount Arafat.
Finally, though their bodies are tired and aching, their spirits are uplifted, knowing that with thousands of others they have performed the sacred pilgrimage.
This is a window on to a sacred journey for Muslims the world over - beautifully described and illustrated for younger children.
Information
Format: Paperback
Pages: 32 pages
Publisher: Frances Lincoln Publishers Ltd
Publication Date: 03/10/2013
Category: Picture storybooks
ISBN: 9781847804907
Free Home Delivery
on all orders
Pick up orders
from local bookshops
Reviews
Showing 1 - 1 of 1 reviews.
Review by KimKolb
27/08/2015
In my opinion, this is a good book. I feel this way because of the illustrations and the language that was displayed throughout the story. The illustrations depicted the actions the pilgrims were taking through each phase of their journey, perfectly. For example, when arriving at Mecca, the picture shows all of the pilgrims bowing down toward the symbolic monument, praying. This helped me to visualize what exactly the pilgrims do during that time. Also in the images, the pilgrims are all different shades of color, representing peoples from different races. This aided my understanding of the significance the pilgrimage has on so many people. The language throughout the story was extremely descriptive, and captured my attention in wanting to read further. For each phase of the pilgrimage, the author went into great detail about what the people were to do. At the end of the book, the author included a glossary of important Arabic words, and explains what each of them means. The main idea of this story is to teach children about the rituals of Hajj. Though the culture may not suit every child's religion, it sheds a light on a culture that is practiced by many people, and is interesting to learn about.