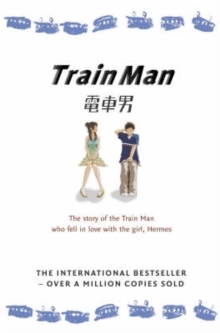 Description
This is a true story of love for the internet generation - the international bestseller that sold over a million copies.
This wonderfully unique book from Japan derives from a series of postings over a three-month period to a particularly computer-geeky thread of 2 Channel, the world's largest anonymous Message Board.
The events all took place in Tokyo. One day a shy otaku computer geek mentioned on the message forum how he had met a girl on a subway train.
As things developed he continued to post updates to the message board.
He gained the nickname 'Train Man'. With each update from bashful Train Man, his fellow correspondents throw in own colourful speculations, boyish encouragements, tongue-in-cheek warnings, and fabulously inventive ascii text drawings.
Train Man tries to take on board their comments as events unfold.
Eventually he finds love with the girl, Hermes, and reveals to her the entire history of the thread.
The true identity of Train Man remains a closely guarded secret.
Information
Format: Paperback
Pages: 320 pages
Publisher: Little, Brown Book Group
Publication Date: 01/07/2006
ISBN: 9781845293512
Free Home Delivery
on all orders
Pick up orders
from local bookshops
Reviews
Showing 1 - 3 of 3 reviews.
Review by Kanikoski
16/06/2015
The fascination of this is the format. The underlying love story is sweet enough, but carrying the novel through as threads in an Internet chatroom is a real feat of authorship. Perhaps the narrative sags at times, but that must go with the medium. I also had a tendency to want, more than usual, to skip or skim-read sections to find the next 'meat' of the action. That is maybe also to do with the chosen structure, especially as the main male protagonist is, quite rightly, not always available at the keyboard. Another intriguing aspect of the approach is the take on the (sometimes comfortable) blanket of anonymity on the Internet: even if we exchange thoughts and book reviews on Facebook, we may not know each other.
Review by Chipped
16/06/2015
Original BBS log edited and translated to tell the story of Train Man who found the courage to pursue love, supported by the anonymous visitors of 2-channel. Interesting format and peek at the Japanese geek culture. Dare I say one of the more representative literature of the Internet era?
Review by PamZaragoza
16/06/2015
"What they did was something very simple: they offered to help somebody who needed help. It was a simple gesture stemming from a sense of common courtesy we all carry within ourselves."<br/><br/>It really is amazing how the power of encouragement and faith to a person can change their lives forever. These anonymous people weren't obliged to help Train but they did so because they really wanted to help him. There really is still hope in humanity.