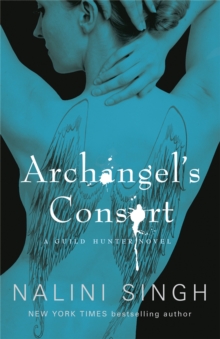 Archangel's Consort : Book 3
Paperback
Description
Nalini Singh steps back into the shadows of her heartbreakingly original world where angels rule, vampires serve, and the innocent can pay the greatest price of all ...Vampire hunter Elena Deveraux and her lover, the lethally beautiful archangel Raphael, have returned home to New York only to face an uncompromising new evil ...A vampire has attacked a girls? school - the assault one of sheer, vicious madness - and it is only the first act.
Rampant bloodlust takes vampire after vampire, threatening to make the streets run with blood.
Then Raphael himself begins to show signs of an uncontrolled rage, as inexplicable storms darken the city skyline and the earth itself shudders.
The omens are suddenly terrifyingly clear. An ancient and malevolent immortal is rising. The violent winds whisper her name: Caliane. She has returned to reclaim her son, Raphael. Only one thing stands in her way: Elena, the consort who must be destroyed ...
Information
Format: Paperback
Pages: 336 pages
Publisher: Orion Publishing Co
Publication Date: 01/02/2011
Category: Fantasy
ISBN: 9780575095779
Free Home Delivery
on all orders
Pick up orders
from local bookshops
Reviews
Showing 1 - 5 of 9 reviews.
Previous | Next
Review by snitchbitch
16/06/2015
Archangel's Consort is the third in Nalini Singh's Guild Hunter series, set around the Archangel Raphael and his human-turned-angel consort, Elena Devereux.

The second book of the series revolved quite a lot around Elena's weaknesses as she was coming to grips with her new status (both as an angel and as consort to an Archangel), but this book takes us back to the Elena we all love to see - kicking ass, and not even bothering to take names.

She's re-establishing herself as a Guild Hunter and trying to find the balance between her old life and her new one. Unfortunately, her old life also includes her father - and no matter how much she'd like to cut Jeffrey out of her life for good, she just can't seem to let him go.

This book also finds Raphael learning new truths behind his abilities, which have evolved ever since he fell in love with a mortal. He's the first Archangel to take a mortal consort, and the repurcussions will no doubt be lasting.

Throw in appearances from Raphael's Seven, and you've got yourself one heck of an anjoyable read. The only thing I'm left asking is:

"Please, Ms. Singh - can I have some more?"
Review by LaCello
16/06/2015
Loved it! Finished it in less than 3 hours! This was a wonderful continuation of the series, but definitely not the best. I felt that the plotline was very rushed, and there was never any downtime, nor much in the way of emotional Raphael/Elena scenes that we have become accustomed to. However, I really enjoyed it, and devoured it in less than 3 hours, simply because I love the characters of Raphael and Elena. Definitely a must read for fans of the series.<br/><br/>
Review by cranberrytarts
16/06/2015
Another excellent entry in Singh's Guild Hunter series. I wonder if she plans to expand the series to include some of the other angels? I would love to read about Raphael's Seven. <br/><br/>I love the evolution of Raphael and Elena's relationship. I think Raphael becomes just a shade more human with each book, which makes him easier to relate to. He's still the same cold being he was in the first book, but he's softened where Elena is concerned. <br/><br/>If only NS wrote these faster. I hate having to wait so long between books.
Review by wyvernfriend
16/06/2015
Elena is dealing with being an angel and angel politics, as well as the fact that her mother-in-law might just be coming back to life after a long sleep and things are complicated. Vampires are going berserk and things have to be controled.It's an interesting series, I'm curious to see where things are going to go.
Review by Irena.
16/06/2015
***4.5***

This is how you write a second, third, etc. story when you have the same couple.
The main story is that vampires are going crazy all over the place. They are not in bloodlust. At the same time Raphael and some of the Cadre of ten are acting weird. The blurb makes it sound as if that has a lot of impact on the story. It doesn't, except to strengthen Elena and Raphael's connection.
This book is emotionally charged. Both Raphael and Elena have to deal with some really tough issues. Fortunately for us, Nalini Singh doesn't have to insert their conflict into it. Their issues are separate, but they are dealing with them together. I wish if all authors who have series such as this (or a few books in a series) would learn how to do this.

Also in the The Guild Hunter Series series | View all