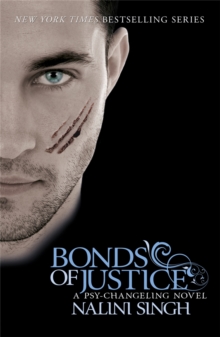 Bonds of Justice : Book 8
Paperback
Description
Max Shannon is a good cop, one of the best in New York Enforcement.
Born with a natural shield that protects him against Psy mental invasions, he knows he has little chance of advancement within the Psy-dominated power structure.
The last case he expects to be assigned is that of a murderer targeting a Psy Councilor's closest advisors. And the last woman he expects to compel him in the most sensual of ways is a Psy on the verge of a catastrophic mental fracture ...Sophia Russo is a Justice-Psy, cursed with the ability to retrieve memories from men and women so twisted even veteran cops keep their distance.
Appointed as Max's liaison with the Psy, she finds herself fascinated by this human, her frozen heart threatening to thaw with forbidden emotion.
But, her mind filled with other people's nightmares, other people's evil, she's standing on the border between sanity and a silken darkness that urges her to take justice into her own hands, to become judge, jury ... and executioner ...
Information
Format: Paperback
Pages: 368 pages
Publisher: Orion Publishing Co
Publication Date: 26/05/2011
ISBN: 9780575100091
Free Home Delivery
on all orders
Pick up orders
from local bookshops
Reviews
Showing 1 - 3 of 3 reviews.
Review by wyvernfriend
16/06/2015
A murder mystery with a side order of psionics.In a near future world psionics and changelings are known and part of the community. In the justice system some psionics work to find out the truth in people. Sophia Russo is one of these psions. She is near the end of the time that she can do this, her shields are beginning to come apart, this may be her last case.Max Shannon is a cop, an ordinary human with a slight advantage, he has a natural shield agains psionics which makes him useful as an investigator of psionics.This case has them investigating together the hows and whys of some murders around one of the psionic councilors, murders that could swing psions against humans and changelings. And they have to deal with their feelings for each other, can Sophia survive?I liked it, the characters were fun and the mystery kept giving.
Review by Cynical_Ames
16/06/2015
Okay so this is a Human/Psy pairing but who cares because the political drama in this book was way more interesting! Nikita and Kaleb were the attention grabbers of this book. So many hints about the two of them were dropped you could drive yourself crazy trying to figure them out. Is Kaleb the Ghost? Is Nikita not as bad as we originally thought?<br/><br/>Nikita effectively pushed things forward by declaring the need for a council vote on continuing with Silence or breaking it. A big line was drawn and now the council is split. Only Ming has yet to decide which side he's on. Of course, I'm Team Anti-Silence and Anti-Pure Psy. I can't wait to see how things progress. <br/><br/>Nalini is making me nuts, not only can I not wait for Hawke's book but now I'm desperate to know more about Nikita, Kaleb and the Arrows as well as how the war between the two sides of the council will develop and what lengths they will go to, to achieve their goals. Bring it on!
Review by AzureStrawberry
27/01/2016
Another beautiful and heart-breaking novel for a series I will love till the end.<br/>Bond of Justice, unlike the previous books, is not about our loved changelings but tells us something new from the point of view of a human, the cop Max Shannon (we already met him in a previous book), and a Justice-Psy, Sophia Russo.<br/>However human he can be, Max is not a common cop…and as a J Sophia is far from the usual Psy we are used to read.<br/>Nalini unravel for us new scenarios for a world that is ever more intriguing.
Also in the The Psy-Changeling Series series | View all