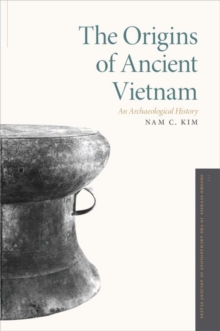 The Origins of Ancient Vietnam
Hardback
Description
Long believed to be the cradle of Vietnamese civilization, the Red River Delta of Vietnam has been referenced by Vietnamese and Chinese writers for centuries, many recording colorful tales and legends about the region's prehistory.
One of the most enduring accounts relates the story of the Au Lac Kingdom and its capital, known as Co Loa.
According to legend, the city was founded during the third century BC and massive rampart walls protected its seat of power.
Overthe past two millennia, Co Loa has become emblematic of an important foundational era for Vietnamese civilization.
Today, the ramparts of this ancient city still stand in silent testament to the power of past societies.
However, there are ongoing debates about the origins of the site, the validity oflegendary accounts, and the link between the prehistoric past with later Vietnamese society.
Recent decades of archaeology in the region have provided a new dimension to further explore these issues, and to elucidate the underpinnings of civilization in northern Vietnam.
Nam C. Kim's The Origins of Ancient Vietnam explores the origins of an ancient state in northern Vietnam, an area long believed to be the cradle of Vietnamese civilization.
In doing so, it analyzes the archaeological record and the impact of new information on extant legends about the region and its history. Additionally, Kim presents the archaeological case for this momentous development, placing Co Loa within a wider archaeological consideration of emergent cities, states, and civilizations.
Information
Format: Hardback
Pages: 354 pages, 39 illustrations
Publisher: Oxford University Press Inc
Publication Date: 31/12/2015
Category: Asian history
ISBN: 9780199980888
Also in the Oxford Studies in the Archaeology of Ancient States series | View all