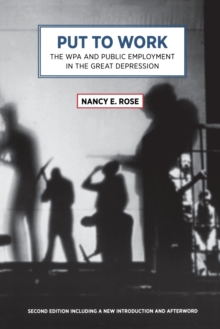 Put To Work : The WPA and Public Employment in the Great Depression
Paperback / softback
Description
With unemployment surging to record levels and the economy in freefall, experts are looking to the Great Depression for lessonsin stimulating job creation.
Then, as now, the system was unableto provide the jobs and financial support desperately needed by millions of people.
But then--in the 1930s--the state intervened to create massive employment programs that put people to work on socially useful projects in states, cities, and towns across the country.
The scope of these programs was unprecedented and never repeated in the decades that followed.
Today, as the severity of the economic crisis increasingly resembles that of the Great Depression, the time for a reappraisal of the New Deal employment programs has never been more necessary. Put To Work tells the story of the massive government job-creation programs of the 1930s--not only the Works Progress Administration (WPA), but also the lesser known Federal Emergency Relief Administration (FERA) and Civil Works Administration (CWA), which set the framework for the ideological and policy battles that followed.
Nancy E. Rose details the development of these programs, the pressures that surrounded them, and the resulting constraints.
She analyzes both their unique contributions and their shortcomings, especially in their treatment of women and African-Americans.
In the process, she carefully reevaluates the charges that these were inefficient "make-work" programs, or "boondoggles," charges that continue to characterize job-creation programs to this day. In her new introduction, Rose places the Obama administration's economic stimulus package in historical perspective as part of this tradition of government job creation programs.
In her new conclusion, she explores lessons from the New Deal work programs for the current era.
Information
Format: Paperback / softback
Pages: 160 pages, Illustrations
Publisher: Monthly Review Press,U.S.
Publication Date: 01/11/2009
Category: History of the Americas
ISBN: 9781583672068
Free Home Delivery
on all orders
Pick up orders
from local bookshops