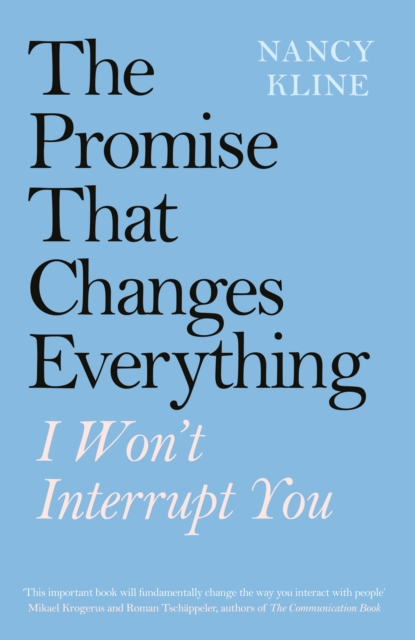 The Promise That Changes Everything : I Won't Interrupt You
Paperback / softback
Description
'The lessons and practices here will shift a sense of chaos to one of clarity and a mindset of fear to one of hope' Margaret Heffernan, bestselling author of Wilful Blindness ___________________________________________________________________________________How often do you interrupt?
How often do people interrupt you? Can you remember the last time someone listened to you all the way through your thinking?In a time when communication is more challenging than ever and relationships need to be nurtured, listening to one another could not be more important.
In her new book, Nancy Kline, bestselling author of Time To Think, suggests that for us to radically improve our communication we should make the propmise 'I won't interrupt you'. This promise matters because when we interrupt each other, we interrupt our thinking, and that interrupts the quality of everything we do.
By making this promise to our colleagues and loved ones we can deepen our relationships, increase our productivity, and enjoy deeper, richer conversations.
It may, in fact, be the most important promise we ever make.
Nancy has spent the last three decades researching independent thought and the barriers that prevent us from thinking for ourselves.
In this book she tells us the truth about the damage that interruption can cause, she shares case studies and stories from her work with clients, as well as simple ways we can improve our communication, and change our lives. ___________________________________________________________________________________'This generous, useful and important book is a delight to read and will fundamentally change the way you interact with people' - Mikael Krogerus and Roman Tschappeler, authors of The Communication Book 'This timely and persuasive book shows us that the foundation for independent thinking is the promise to actually listen, without interruption, to what others have to say' Cal Newport, bestselling author of Digital Minimalism
Information
Format:Paperback / softback
Pages:256 pages
Publisher:Penguin Books Ltd
Publication Date:29/10/2020
Category:
ISBN:9780241423516
Other Formats
EPUB from £8.99
eAudiobook MP3 from £8.66
Information
Format:Paperback / softback
Pages:256 pages
Publisher:Penguin Books Ltd
Publication Date:29/10/2020
Category:
ISBN:9780241423516