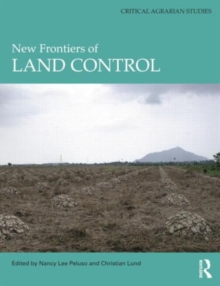 New Frontiers of Land Control
Paperback / softback
Description
Questions about land control have invigorated thinkers in agrarian studies and economic history since the nineteenth century. 'Exclusion', 'alienation', 'expropriation', 'dispossession', and 'violence' animate histories of land use, property rights, and territories.
More recently, agrarian environments have been transformed by processes of de-agrarianization, urbanization, migration, and new forms of primitive accumulation.
Even the classic agrarian question of how the social relations of agriculture will be influenced by capitalism has been reformulated at critical historical moments, reviving or producing new debates around the importance of land control. The authors in this volume focus on new frontiers of land control and their active creation.
These frontiers are sites where established power relationships are challenged by new enclosures and property regimes, producing new social and environmental dynamics in their stead.
Contributors examine labor and production processes engaged by new configurations of actors, new agrarian and environmental subjects and the networks connecting them, and new legal and violent means of challenging established or imminent land controls.
Overall we find that land control still matters, though in changed degrees and manners.
Land control will continue to inspire struggles for a long time. This book was originally published as a special issue of the Journal of Peasant Studies.
Information
Format:Paperback / softback
Pages:242 pages
Publisher:Taylor & Francis Ltd
Publication Date:17/01/2014
Category:
ISBN:9780415533133