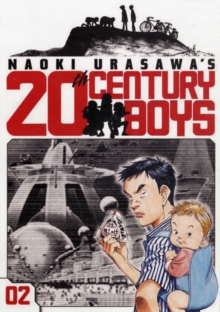 Naoki Urasawa's 20th Century Boys, Vol. 1
Paperback
Description
The Friend, an enigmatic cult leader who plans to destroy the world, declares, 'The cosmos has begun choosing those who are true friends'.
Meanwhile, horrifying incidents are taking place: the emergence of a mysterious virus, the revelations of a man on the run...Kenji tries to find out who this Friend is, but the answer is still far ahead.
The footsteps of doom slowly creep closer and a shadow falls over the city...Yukiji remembers who came up with their group's enigmatic symbol: Otcho.
She also discovers that, nine years earlier, Otcho had been working in Thailand but mysteriously vanished.
Could Otcho be the mysterious Friend? Also, a legendary detective is hot on the trail of the Shikishima kidnappers, but the clues he uncovers lead him dangerously close to the Friends cult.
Is his life now in danger as well?
Information
Format: Paperback
Pages: 216 pages
Publisher: Viz Media, Subs. of Shogakukan Inc
Publication Date: 11/04/2009
Category: Manga
ISBN: 9781591169260
Free Home Delivery
on all orders
Pick up orders
from local bookshops
Reviews
Showing 1 - 1 of 1 reviews.
Review by lexilewords
16/06/2015
And the mystery deepens! How is a childhood game played by Kenji and his friends related to this mysterious 'Friend' and his plans for the world? Why is Kenji the one person who can save humanity? Who is the 'Friend'? Could it be Otcho, the leader of the gang when they were kids, mysteriously missing for these 9 years? Why exactly does the 'Friend' world domination is the end all plan?In the second volume of 20th Century Boys things begin to grow murkier as Kenji investigates further into his friend Donkey's 'suicide' and the mysterious symbol from his youth. I can easily understand why people can liken the narrative progression to that of the tv series Lost. The 'present', 1997, is used as the jumping up point. From there we jump back and forth between events of Kenji's childhood that directly relate to the current issues. Every so often events jump to December of 2000--when a disaster is about to change the world.We learn more about Kiriko, Kanna's mother and Kenji's older sister, who raised Kenji and saved him more often then he thought from death. Through his memories we easily can see why he feels it is so important for him to take care of Kanna and no one else. We meet and learn more about Yukiji, a relentless tomboy from Kenji's youth who was one day 'saved' by Kenji from the neighborhood bullies. A homeless man who is called 'Kamisama' (God) by his fellows because he can see into the future on occasion dreams of the destruction to come and how to perhaps prevent it.Once again Viz's presentation is wonderful and makes reading this series enjoyable. This is, in many ways, a hard manga to read for casual readers. There isn't a lot of 'action' or such, outside of the scifi elements and Friend plot, this is more about life and how life changes you. From Kenji's regrets that his sister was never able to do what she wanted because she was constantly caring for him to Yukiji's disappointment that Kenji couldn't stand up to the 'knight in shining armor' she remembered from her youth.Volume 3 is due out in June, with volume 4 following in August, five following in October and 6 following in December. If Viz holds to schedule, you really only to wait every other month for the series, which is wonderful because this is a series you don't want to lose a grasp of the details on.