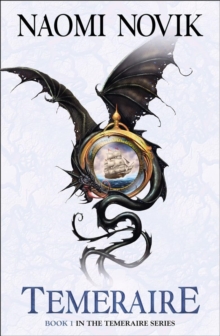 Description
Naomi Novik's stunning series of novels follow the global adventures of Captain William Laurence and his fighting dragon Temeraire as they are thrown together to fight for Britain during the turbulent time of the Napoleonic Wars.Captain Will Laurence has been at sea since he was just twelve years old; finding a warmer berth in Nelson's navy than any he enjoyed as the youngest, least important son of Lord Allendale.
Rising on merit to captain his own vessel, Laurence has earned himself a beautiful fiancee, society's esteem and a golden future.
But the war is not going well. It seems Britain can only wait as Napoleon plans to overrun her shores.After a skirmish with a French ship, Laurence finds himself in charge of a rare cargo: a dragon egg bound for the Emperor himself.
Dragons are much prized: properly trained, they can mount a fearsome attack from the skies.
One of Laurence's men must take the beast in hand and join the aviators' cause, thus relinquishing all hope of a normal life.But when the newly-hatched dragon ignores the young midshipman Laurence chose as its keeper and decides to imprint itself on the horrified captain instead, Laurence's world falls apart.
Gone is his golden future: gone his social standing, and soon his beautiful fiancee, as he is consigned to be the constant companion and trainer of the fighting dragon Temeraire...
Information
Format: Paperback
Pages: 352 pages
Publisher: HarperCollins Publishers
Publication Date: 06/08/2007
Category: Fantasy
ISBN: 9780007258710
Free Home Delivery
on all orders
Pick up orders
from local bookshops
Reviews
Showing 1 - 5 of 10 reviews.
Previous | Next
Review by veracity
16/06/2015
Not your average dragon book. Temeraire is a fabulous alternative history set during the Napoleonic wars in which dragons form a crucial part of Britain's defence against the French. Will Lawrence, a sea captain, takes a ship which has a precious cargo; a dragon egg that is just about to hatch. Realising its importance to Britain's war effort and, in extremis, having no alternative, Lawrence bonds with the baby dragon knowing full well he must now leave the Navy to fly a dragon instead.Highly recommended.
Review by edgeworth
16/06/2015
I should have known better than to buy this book, which I did on a whim in a second-hand bookstore because I really felt like blowing some money. And blow I did! Dragons, on the whole, have been exhausted as a source of fantasy, and I have very little tolerance for an author who continues to wring every last drop out of them instead of coming up with something more original (see: Philip Reeve's Mortal Engines or Emily Rodda's children's fantasy novels).In Novik's credit, she does at least come up with a slightly fresh (or at least "less stale") idea; Temeraire is set in an alternate Napoleonic era in which dragons exist. My tolerance is cut short here, because that's the limit of her idea: dragons exist, and are used in combat. That's it. History has played out exactly the same, from the Roman Empire to Trafalgar, despite the presence of a secondary intelligent species on the planet. Society does not treat them as such; despite their handlers having strong bonds with them and considering them equals, they are referred to as "beasts," and considered useful breeding stock. The handlers have no objection to this, which is one of many contradictions throughout.This book is basically chick lit that just happens to feature dragons. It follows the tale of former Navy captain William Laurence and his raising of the titular Temeraire, as they progress through training and eventually have a couple of skirmishes over the English Channel. Although their relationship is one between a hardened military veteran and an enormous monster capable of slaughtering hundreds of men, it struck me as similar to that of an unmarried, middle-aged woman and her sweater-wearing poodle. Laurence bathes him, lavishes him with gifts and jewellery, reads to him, grooms him, talks about his feelings and generally mollycoddles him throughout all tedious three hundred and forty pages. When Novik tires of this, she occasionally takes us on a tour of the exasperating tedium of 19th century British ettiquette.Overall: wooden characters, a boring plot, and an unoriginal theme to begin with. Thumbs down.
Review by tronella
16/06/2015
Historical fantasy, I love you. Especially when based in historical periods I know very little about (i.e. most of them). So this is the Napoleonic wars but with dragons, written in an Age of Sail style which I enjoyed immensely. I wanted to hug many of the characters and I'll probably pick up the sequels, once I've cut down my to-read pile a little.
Review by Intemerata
16/06/2015
Two of my favourite things - fantasy and Age of Sail - in one book: what could be better? And the two are very effectively integrated together: I love the little details like the explosion of the L'Orient at the Battle of the Nile being attributed to dragon fire instead of the powder magazine.In terms of overall tone, it definitely comes across as fantasy more than Age of Sail: the focus is very much on the dragons, which seem more fully realised as characters than most of the humans (especially Temeraire himself). Unlike Patrick O'Brian, it's also very obviously looking back at the period through modern eyes.In short: not a brilliant historical novel, but a great fantasy one.
Review by mojacobs
16/06/2015
A wonderful ripping yarn: Patrick O'Brian with dragons. Loved it. Excellent entertainment, not too silly, went down very well. Am going to order the next one in the series as soon as possible.
Also in the The Temeraire Series series | View all