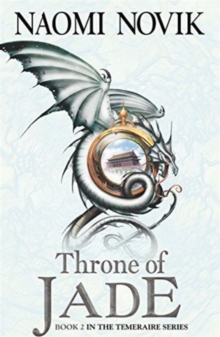 Description
History takes flight in the second book of Naomi Novik's deliciously addictive series which captures the Napoleonic period perfectly and skillfully layers the timeline with imagination by adding a Dragon Air Force to the battle for England. Captain William Laurence of the British Air Corps and his dragon, Temeraire, begin their slow voyage to China, fearful that upon landing they will be forced to part by Imperial decree. Temeraire is a Celestial dragon, the most highly-prized of all draconic breeds; famed for their intelligence, agility and most of all for the Divine Wind - their terrible roar capable of shattering the heavy timbers of war ships, shattering woodland and destroying other dragons mid-flight.
Temeraire's egg was captured and claimed by the British at sea, but he was meant to be the companion of the Emperor Napoleon and not captained by a mere officer in the British Air Corps. The Chinese have demanded his return and the British cannot refuse them - they cannot afford to provoke the asian super-power into allying themselves with the French - even if it costs them the most powerful weapon in their arsenal and inflicts the most unimaginable pain upon Laurence and his dragon.
Information
Format: Paperback
Pages: 400 pages
Publisher: HarperCollins Publishers
Publication Date: 06/08/1998
Category: Fantasy
ISBN: 9780007258727
Free Home Delivery
on all orders
Pick up orders
from local bookshops
Reviews
Showing 1 - 4 of 4 reviews.
Review by mojacobs
16/06/2015
I was very enthousiastic about the first book in this series. This second one could charm me a bit less. The story is slow, and the characters take a while to develop. Still good enough to finish, still Patrick O'Brian with dragons. But a bit less of a ripping yarn than number one. And I would not give every O'Brian book 4 stars either :-)
Review by shanaqui
16/06/2015
It took me a while to read Throne of Jade, despite how much I loved Temeraire (or His Majesty's Dragon, for you non-Brits). But Black Powder War is due back at the library tomorrow, no renewal possible, so I finally raced through Throne of Jade in hopes of finishing both it and Black Powder War in time to return them to the library tomorrow. I think I might even manage it, given an hour or two of quiet to read in the morning, perhaps even in the library itself. When you actually get down to it, the books are amazingly readable and you can eat them up.<br/><br/>My hesitations with Throne of Jade had nothing to do with the writing, and everything to do with me being a wuss. I can't finish watching Supernatural because I'm scared that the boys I love will get hurt too much. It's the same with this. I love Temeraire and Laurence, and from the very first things are happening to them that worried me because I couldn't see how they could be resolved.<br/><br/>Don't let that scare you off, seriously.<br/><br/>For a start, Novik deals with it quite well. Laurence's sureness of Temeraire and yet his jealousy of anything that might take him away, Temeraire's confusion and his need to deal with it... The book also raises issues of civil rights: obviously a big thing in the time the book is set, due to the slave trade, but also with the dragons themselves. I don't think I've read anything like it in fantasy. No such world has been set up, where dragons have such minds of their own. The obvious comparison is Anne McCaffrey's series, but thinking back, I'm pretty sure the dragons never would have even thought about freedom in the way Temeraire does here. The contrasts between the British way of doing things and the Chinese are interesting, and I like that the conclusion isn't that the British way is better, despite the fact that it seemed fine to us in the first book. I love that stuff like that has become problematised! It's also following up on the small hints at how dragons are treated in the first book, with Rankin's treatment of Levitas being frowned upon, and yet him not being rebuked -- and Laurence forbidden to interfere.<br/><br/>In terms of the plot itself, I felt that parts of it were quite slow, while once they got to China, things raced along at a pretty good clip. That's partly, of course, the varying speed that I read bits at, but also a lot more seems to happen in the final section of the novel than in the previous parts. I would have liked it to be a bit longer... Parts of it seemed a little disbelievable, particularly the relatively easy resolution at the end after the <i>whole book</i> was full of resistance. I understood the reasoning, but wasn't quite convinced.<br/><br/>Character-wise, it's mostly Laurence and Temeraire again. But! I was interested in other characters, too, particularly Granby and Riley. It's a little uncomfortable that one does like Riley, and yet he's not opposed to the slave trade. I guess that does sort of throw up the whole issue of slavery again: he appears to be a good guy, but he's not opposed to the slave trade, how can you reconcile that? I don't feel like this book is really a character-book, but it has more than enough there to support the plot and keep my interest (and I <I>am</I> a character kind of girl).<br/><br/>...I used the word problematised in a review. Academia is swallowing me whole: I don't even like the word, but so many of my lecturers use it... Aaah. Anyway. Conclusion: I liked this a lot, it's well worth trying this series. This book doesn't, however, stand alone: you definitely have to start with Temeraire (His Majesty's Dragon).
Review by AHS-Wolfy
16/06/2015
The 2nd book in the Napoleonic wars with dragons series picks up not longer after the conclusion of the 1st and learning of the true nature of Temeraire. The Chinese, it seems, don't think too highly of him being partnered with a lowly captain and being used as an instrument of war and want Temeraire returned. They have sent Prince Yongxing, brother to the Emperor to fetch him back. As Temeraire refuses to be parted from Laurence then he'll just have to leave for China too. The British government want to establish an embassy and improve trade and Temeraire could prove an invaluable bargaining chip in so doing, even if it means sacrificing one of their greatest weapons in the war against France.The book is split into 3 parts. The first two deal with the journey from England to China (it's a long trip by boat) and the last third in China itself. Personally I feel like it might have been better with a 50/50 split or even the other way around. Even though the trip was eventful it felt over-long and was left feeling the time spent in China was given short shrift. Despite this, there are a lot of positives to be found here. The relationship between the two main characters deepens significantly as does the growth of Temeraire himself. We also see a difference in dragon culture and how vastly it differs between the two continents and this sets things up for future stories I'm sure of which I'll be happy to continue reading.
Review by thatotter
16/06/2015
There was nothing in it for me that equaled charm of meeting the dragons in the first book. Overall it was still enjoyable, but only just.
Also in the The Temeraire Series series | View all