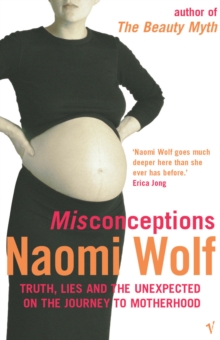 Description
Every year, millions of women have their lives turned inside out by the experience of pregnancy.
A contemporary woman find herself caught in an absurd paradox: while in the grip of one of the most primal, lonely, sensual and, in some ways, psychologically debilitating and physically dangerous experiences, she is overwhelmed by invasive, trivialising and infantilising cultural messages about what is happening to her - and who really owns the experience.
Information
Format: Paperback
Pages: 288 pages
Publisher: Vintage Publishing
Publication Date: 03/10/2002
Category: Gender studies: women
ISBN: 9780099274162
Free Home Delivery
on all orders
Pick up orders
from local bookshops
Reviews
Showing 1 - 1 of 1 reviews.
Review by marialondon
16/06/2015
This was an eye-opening book for me. I'm not a mother, I'm not even married, so I haven't yet looked into all these issues in depth. I also don't live in the US. So it was interesting to read about the health system there, which seems to be on the one hand very much intervention-oriented but on the other hand, there is a continually growing natural-birth movement, which is very good.I've read all of Naomi Wolf's previous books, & as I can recall, each & every one was met with lots of criticism when they first came out. There are flaws in this book, but it's a 'story' that needs to be told. As many other readers have noted, Wolf is a world-known feminist, & the fact that she decided to tackle this difficult issue may help in more public awareness of the problems of childbirth & pregnancy. One criticism I found extremely unfair is that Naomi "whines". It's true that the book has a general negative feeling about pregnancy & childbirth: but it's also true that 99,9% of information for mothers-to-be show a glowing, content, totally calm & fullfilling experience. Sure, there's talk about the pain of labour. But apart from that, there's little aknowledgment in society of a)post-partum depression, b) womens' frustration & sense of failure when they don't manage as well as they hoped work & child-rearing & when their husbands are only "helpers" & not equal partners in the new responsibilities. These issues have to be handled by the woman herself, while everyone around her finds it hard to see these difficulties. I've seen this happening in many of my friends' lives, I've seen the disappointment & the difficulties, & it would be so much better, first of all for the children, if mothers were better cared-for by their husbands but also by society as whole. Naomi Wolf proposes some interesting changes & gives some ideas at the end of the book, so that's a start.Another unfair argument is that Naomi Wolf is "privileged", that she has a sense of entitlement. Also, some readers have asked- "what is she complaining about? she had a healthy baby didn't she". Since when does the fact that a woman is well-off take away her right & even responsibility to talk about everything she's learnt? Since when does that fact that a woman had a healthy baby mean that she has to forget & erase all she went through before that? It's as if she should be grateful or something, when the fact is that most women do have healthy babies but most women also aren't encouraged to talk about their negative experiences as well as the positive. Women like Wolf have the knowledge, time & yes money to do good research & to shout out loud all this information that has to be heard. So it's not only in her self-interest that she does this, it's in the interest of all women.Even though I liked this book, there are a couple of things I wasn't happy with. First, the fact that some of Wolf's points were not very clear, & they were even contradictory at times. For example her view about abortion confused & angered me. She does not take a clear pro-choice position but rather says she takes this position while on the other hand she finds herself confused & persuaded partly by pro-lifers. Also, she talks about breast-feeding glowingly, & then goes on to put down "La leche league" as "lactation fascists".A final note: the book is very very badly edited. There's not a complete bibliography in the end, & there are MANY typos. I found myself holding a pen, crossing out wrongly spelled words, or adding missing words. This to me is unacceptable & even a little embarrassing for the editors & indeed, the author.All in all, a book well worth reading, which maybe doesn't contain wide research but which definitely leads a reader to do more research on their own.Comment