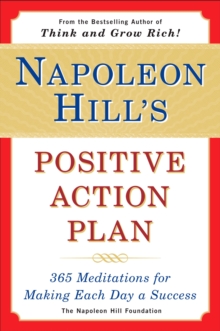 Napoleon Hill's Positive Action Plan : 365 Meditations for Making Each Day a Success
Paperback
Description
Napoleon Hill is the recognised expert on all things successful.
In this book, Hill reveals how you can grow rich and keep your mental act together at the same time.
Typical of Hill's writing style the book is easy to read and features numerous examples from his real life experience.
This book covers, among many other things: · Developing a winning attitude. · Spotting opportunities. · Using teamwork. · Gaining peace of mind. This book focuses on achieving success through positive relationships and a healthy mental attitude.
The weakness of most programmes for helping a person improve his or her life is the lack of follow-up.
New principles have to be applied repeatedly before they become new habits that overcome the old (bad habits arising from "stalled" thinking) that caused the problem in the first place.
Many books make no attempt to deal with this. Napoleon Hill in his classic, Think and Grow Rich, did address the question originally by providing daily exercises for the reader to follow.
Many people probably find that they lack the self-discipline, the time or other key resources to follow that good advice.
For those people (probably 99% of us), this book is helpful, because it is easier to use on a daily basis.
Free Home Delivery
on all orders
Pick up orders
from local bookshops