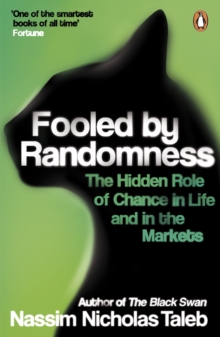 Fooled by Randomness : The Hidden Role of Chance in Life and in the Markets
Paperback
Description
Everyone wants to succeed in life. But what causes some of us to be more successful than others?
Is it really down to skill and strategy - or something altogether more unpredictable? This book is the bestselling sensation that will change the way you think about business and the world.
It is all about luck: more precisely, how we perceive luck in our personal and professional experiences.
Nowhere is this more obvious than in the markets - we hear an entrepreneur has 'vision' or a trader is 'talented', but all too often their performance is down to chance rather than skill.
It is only because we fail to understand probability that we continue to believe events are non-random, finding reasons where none exist.'One of the smartest books of all time' Fortune 'An iconoclastic tour de force ... nothing escapes his Exocets' Evening Standard 'Brilliant' John Kay 'Excellent and thought-provoking ... an entertaining book' Financial Times 'Wall Street's principal dissident' Malcolm Gladwell
Information
Format: Paperback
Pages: 368 pages
Publisher: Penguin Books Ltd
Publication Date: 03/05/2007
Category: Investment & securities
ISBN: 9780141031484
Free Home Delivery
on all orders
Pick up orders
from local bookshops
Reviews
Showing 1 - 4 of 4 reviews.
Review by jusi
16/06/2015
read this and feel better about your job, whatever it is. people are not as clever as they think they are - luck plays a big part in success.
Review by jontseng
16/06/2015
A rare example where the second book (Black Swans) is more interesting than the first (this one). Some good ideas buried in there, but the thread is sometimes hard to follow.
Review by abraxalito
16/06/2015
Taleb isn't afraid to diss the pretenders in this field and hang them out to dry. I find his darkest black humour to be adorable though he does ramble rather. couldn't help chuckling at the various anecdotes: one memorable one, 'Now Yuri will have a word with you' when interviewing those MBA-ers who put chess skills on their resume - priceless! he's really too cynical though in the area of personal growth, so he'll never realise the detachment he seems to want ;-)
Review by simonfarrell
16/06/2015
A skewed, bonkers and enjoyable look at the role of randomness in success. This brought out some neat key points, such as that performance should be determined not (just) by outcome, but on the basis by which the decision was made in the first place, and the long-run performance of a strategy. Coming more from the psychology side of things I know very little about trading and economics, and struggled a bit with the lingo, but nonetheless found this readable. One of the books I've recently read to make me shout out loud "Yes! That is *exactly* spot on!"
Also by Nassim Nicholas Taleb | View all