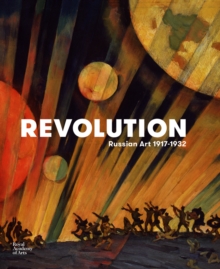 Revolution: Russian Art 1917-1932
Hardback
Description
Revolution: Russian Art, 1917-1932 encapsulates a momentous period in Russian history that is vividly expressed in the diversity of art produced between 1917, the year of the October Revolution, and 1932 when Stalin began to suppress the avant-garde and its debates.
Based around the great exhibition of 1932 held at the State Russian Museum in Leningrad, the book explores the fascinating themes and artistic developments of the first fifteen years of the Soviet state, including painting, sculpture, ceramics, posters, graphics and film.
The exhibition itself was to be the swansong of avant-garde art in Russia: new policies quickly ensured that Socialist Realism - collective in production, public in manifestation and Communist in ideology - was to become the only acceptable art form.
This volume is a timely and authoritative exploration of how modern art in all its forms flourished, was recognised, celebrated, and broken by implacable authority all within fifteen years.