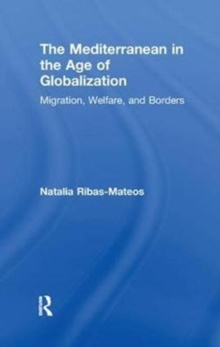 The Mediterranean in the Age of Globalization : Migration, Welfare, and Borders
Paperback / softback
Description
The Mediterranean in the Age of Globalization is a welcome corrective to the tendency to present globalization as a homogenous concept, and the failure to describe how it operates in specific regions.
Ribas-Mateos examines globalization and migration across the Mediterranean, using an innovative, integrated framework so as to map social places by describing how social, political, cultural, and economic forces are embedded within a globalizing environment.The author articulates an original and compelling narrative, mapping the Mediterranean as a global place where international and regional forces are intertwined in multiple threads.
In doing so, she identifies two key components of globalization--affecting specifically forms of welfare and issues of mobility--in the context of a weakening European welfare state and the relocation and reinforcement of Mediterranean borders.
Nine Mediterranean cities are investigated as "gateway" cities, which shape two major effects of globalization: welfare and mobility.
The book challenges conventional North-South perspectives, and focuses and systematizes the way international migration should be conceptualized.The originality of the book results from the author's fieldwork, which is rich in descriptive detail, and from a theory centered around global perspectives.
Seven case studies in Southern Europe--Algeciras, Athens, Barcelona, Lisbon, Naples, Turin, and Thrace--deal with issues related to migration and the welfare state.
She also includes two ethnographies that represent two Mediterranean gateways in the North-South Mediterranean division: Tangiers (in Morocco) and Durres (in Albania), which are mapped as border-cities in the global Mediterranean context. Because of its intrinsically multidisciplinary nature, this superb volume will be of particular interest to academics and social science researchers as well as policymakers and international agencies.
Information
Format: Paperback / softback
Pages: 404 pages
Publisher: Taylor & Francis Ltd
Publication Date: 12/10/2017
Category: Politics & government
ISBN: 9781138516311
Other Formats
EPUB from £28.49
PDF from £28.49
Hardback from £78.95