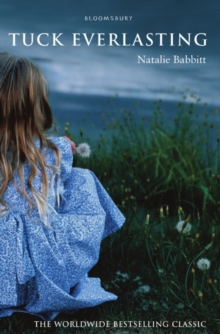 Tuck Everlasting
Paperback
Description
Doomed to - or blessed with - eternal life after drinking from a magic spring, the Tuck family wanders about trying to live as inconspicuously and comfortably as they can.
When ten year old Winnie Foster stumbles on their secret, the Tucks kidnap her and explain why living forever at one age is less than a blessing that it might seem. 'Intense and powerful, exciting and poignant, Tuck Everlasting will last forever - in the reader's imagination.' Amazon.com 'Someone ought to start spreading the word that Natalie Babbitt is not only a children's writer the style is so fine and subtle that grownups too will take real pleasure. 'Tuck Everlasting' is one of the best books ever written - for any age.' Anne Tyler, New York Times Featured in Elle Hot 100 "This refreshing and original story throws up all sorts of moral dilemmas, not least the question of whether one would like to live forever.
Children in Year 4 and above will find much to ponder here." Times Educational Supplement "Babbitt's economy of style is such that she can use a single gesture or detail to convey great swathes of meaning She understands perfectly the sense of powerlessness felt by children and her message is whether your name is Harry Potter, Frodo Baggins or Winnie Foster, young people with courage and a sense of rightness can 'make a difference'. " Herald (Glasgow) 'A welcome reissue of a book previously published in 1977.
Long regarded as an American masterpiece, Natalie Babbitt's novel deals with a weighty subject - everlasting life, no less - with a lightness of touch and a simplicity that never descends to the pedantic or the condescending.
Sounds fanciful, but is told with all the cool, sharp, clear-eyed 'realism' that represents the best of American writing. And don't be influenced in any way by the fact that a Disney version is in production - just read it.
It's breathtaking.' Chris Stephenson, Carousel 'This novel is both lyrical and provocative and a timeless
Information
Format: Paperback
Pages: 144 pages
Publisher: Bloomsbury Publishing PLC
Publication Date: 14/01/2003
Category: General
ISBN: 9780747564171
Free Home Delivery
on all orders
Pick up orders
from local bookshops
Reviews
Showing 1 - 2 of 2 reviews.
Review by Whisper1
16/06/2015
Recipient of many awards, including the 1976 Christopher Award for Best Book for Young People, this remarkable gem has stood the test of time.It is simply written in a fairytale style. And, each and every word is used sparingly with a magical eloquence.Young Winnie Foster is bored and leaves the confines of her house where she walks into the woods surrounding her home to discover members of the Tuck family.In taking her journey, Winnie is transformed by the Tucks as she learns that over 100 years ago they drank from a spring in the woods and thus have eternal life.Fearful that she will divulge the secret, the Tucks take her home with them where they explain the consequences of never dying and of the unrealistic style of life in contradiction of the ebb and flow of life and death.Thought provoking in content, delightfully, wonderfully written, I highly recommend this one.
Review by boppisces
16/06/2015
It's 1880 and ten-year-old Winnie is considering the merits of running away from home. She stumbles across Jessie, who looks about seventeen, and has just drunk from a spring in the woods next to Winnie's home. Parched, she wants a drink too, but her request is met with horror. She is halfheartedly kidnapped, by the Tuck family, Mae, Tuck, Miles and Jesse, who wander about living as inconsiciously as possible. They all drank from the same magic spring eightly odd years ago and are permanently stuck at the same age they were back then. Learning the truth of their existance, Winnie finds it hard to comprehend that they cannot die, even when they make a serious attempt to. The Tucks try to explain how how living forever is most definately not a blessing but a curse that has robbed them of their family, friends, freedom and the cycle of life. Complications arise when Winnie is followed by a stranger who wants to market the spring water for a fortune, a idea which is met with dismay by the Tuck's. A beautifully written book with wonderfully artistic text. We find out in the last pages whether Winnie chose to join the Tucks in everlasting life, or to be happy with the course of her own existance. Very sweet.
Also by Natalie Babbitt