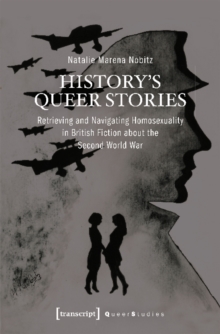 History's Queer Stories : Retrieving and Navigating Homosexuality in British Fiction about the Second World War
Paperback / softback
Description
Critical analysis of the dramatization of homosexuality in British fiction about the Second World War is noticeable only by its relative absence from the field.
Whereas feminist literary criticism has broadened the canon of war fiction to include narratives by and about women, queer scholars have seldom focused on literary representations of homosexuality during the war.
Natalie Marena Nobitz closes a glaring gap in the critical attention of four novels dealing with the disruption of gender roles and institutionalized heteronormativity: Walter Baxter's Look Down in Mercy (1951), Mary Renault's The Charioteer (1953), Sarah Waters's The Night Watch (2006), and Adam Fitzroy's Make Do and Mend (2012).
Information
Format: Paperback / softback
Pages: 310 pages
Publisher: Transcript Verlag
Publication Date: 01/11/2018
Category: Literary studies: general
ISBN: 9783837645439
Also in the Queer Studies series