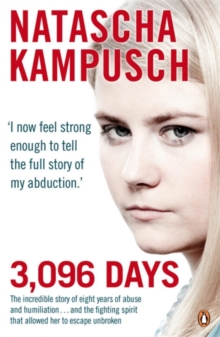 Description
3,096 Days is the remarkable and shocking true account of the kidnap of Natascha Kampusch in 1998, who relives her traumatic experiences in this amazing true story.On 2 March 1998 ten-year-old Natascha Kampusch was snatched off the street by a stranger and bundled into a white van.
Hours later she was lying on a cold cellar floor, rolled up in a blanket.
When she emerged from captivity in 2006, having endured one of the longest abductions in recent history, her childhood had gone.in 3,096 Days Natascha tells her amazing story for the first time: her difficult childhood, what happened exactly on that fateful morning when she was on her way to school, her long imprisonment in a five-square-metre dungeon, and the physical and mental abuse she suffered from her abductor, Wolfgang Priklopil - who committed suicide by throwing himself under a train on the day she managed to make her escape.3,096 Days is ultimately a story about the triumph of the human spirit.
It describes how, in a situation of almost unbearable hopelessness, she learned how to manipulate her captor. And how, against inconceivable odds, she managed to escape unbroken.'A brilliantly insightful dissection of her years in captivity ' Jon Ronson, Guardian 'An excellent book' Kathryn Hughes, Mail on Sunday 'Unflinching and remarkably devoid of self-pity...
Remarkable - not just for Kampusch's account of her ordeal but as a testament to her indomitable spirit' Daisy Goodwin, Sunday Times Natascha Kampusch was born on 17 February 1988 in Vienna and became victim, at the age of ten, to what proved to be one of the longest abductions in recent history.
In 2006 she gained her freedom. On the day she escaped, her abductor Wolfgang Priklopil committed suicide by throwing himself under a train.
Since then Natascha has been trying to live a normal life.
In spring 2010, aged 22, she graduated from university.
Information
Format: Paperback
Pages: 256 pages, None
Publisher: Penguin Books Ltd
Publication Date: 16/09/2010
Category: Autobiography: general
ISBN: 9780670919994
Free Home Delivery
on all orders
Pick up orders
from local bookshops
Reviews
Showing 1 - 3 of 3 reviews.
Review by daveted
16/06/2015
A fascinating psychological study. Mentally tough girl as well.
Review by USSangel85
16/06/2015
Liked this book a lot! Even an idea that it is all a true story makes my stomach cramp... Liked the intensity of it and the dark atmosphere of being in a way like a companion to the girls struggle for freedom, both in her mind and in her sad reality. The strength that is radiating from the pages of her personal account, fascinates me.
Review by herschelian
16/06/2015
I chose this book from a pile at the monthly Beijing Bookswap because there was little else that grabbed me and I was short of time. Not at all my usual type of book, I suspected it would be another of the growing genre of misery memoirs and I was quite prepared to abandon reading if it didn't grab me. However, I found that right from the beginning of the bookNatascha's strong personality was evident, and she told her story clearly with a remarkably unemotional style. I was struck by how, only a few years after her ordeal ended she was able to look back so dispassionately, and analyse both her childhood self and her abductor with such mature clarity. Although I realise she had help writing this book I thought her real voice came through clearly, and she is an impressive young woman - not a victim, a survivor. This book will certainly add to the understanding of how human beings cope with solitary confinement, sensory deprivation and psychological trauma. I wish her well in the rest of her life.
Also by Natascha Kampusch