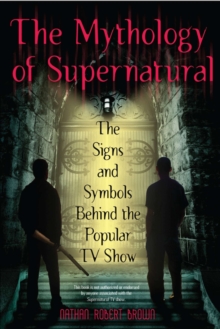 The Mythology of Supernatural : The Signs and Symbols Behind the Popular TV Show
Paperback
Information
Format: Paperback
Pages: 276 pages
Publisher: Penguin Putnam Inc
Publication Date: 02/08/2011
Category: Television
ISBN: 9780425241370
Free Home Delivery
on all orders
Pick up orders
from local bookshops
Reviews
Showing 1 - 2 of 2 reviews.
Review by Aerialgrrrl
16/06/2015
This one was a grower; I was concerned about the simplicity level to begin with and was worried it was going to rehash The Supernatural Book of Monsters, Spirits, Demons, and Ghouls... but I was pleasantly suprised, as it went into some mythology that was quite off the beaten track, and I did learn a few new things. (The history of Lilith is particularly interesting, and I'm now quite keen to track down Robert's book devoted entirely to her.) It's obvious that Brown went from mythologist to fan rather than the other way round, and he does sometimes repeat himself. It's also strictly a book about mythology that doesn't really connect with SPN on a larger canonical level, but it's still vastly superior to some other 'mythology' cheapies.
Review by TValeros
16/06/2015
Are you a fan or even just enjoy the TV series, Supernatural, the one with those two brothers Sam and Dean?Have you always wanted to know more about the background of some paranormal folklore?Ever wondered how salt, holy water, iron and all those other things to ward off evil come to play?Have you just ever wanted to just know MORE? The Mythology of Supernatural: The Signs and Symbols Behind the Popular TV show by Nathan Robert Brown is the perfect read to quench those eager questions you have about the paranormal. It doesn't cover the VAST knowledge of everything that is paranormal and folk lore, but it covers the ones that are most intriguing and that have stood out the most from the rest. Mostly covering the ones that have taken part within the TV series "Supernatural."I really enjoyed this book because I've always enjoyed mythology and the paranormal. Who doesn't!?I've never been the one to want to be part of anything paranormal, but I have always sought out articles that will feed my ever growing yearning to know more of the sort. This book elaborates as well as gives you common knowledge of the supernatural, while using the TV show "Supernatural" as a base reference. What better way to grab the reader and have a better understanding than to use one of your favorite shows to relate to what your reading. It's craftily written that you won't ever get bored, but holds such a strong influential effect. Here's an example of what I mean, this is quoting from the book: "Perhaps we adore heros because they are models for us. They display honor, loyalty, courage, and skills at levels we may never reach but strive for nonetheless--and we are better for it....Myths are meant to immortalize their heroic journeys.For as long as there have been heroes, those half-brave, half-mad souls willing to dash headlong against things that would send most of us screaming in the other direction, there have been stories to immortalize their journeys.... And in the end, it doesn't matter whether or not any hero was ever, in the historical sense, truly alive. What really matters are the ways in which their myths affect those of us who are."See what I mean! It gets you thinking! And if that sounded too serious and deep for you that's where your wrong because it does have passages like that strewn within, but then you get parts that'll have you chuckling because of how light hearted it's written. One section was even titled Zachariah: Heaven's "Douche-nozzle" lol I've never heard anyone but myself use that term. =)The Mythology of Supernatural isn't written as a story but more like a cooler version of an encyclopedia. You get to know more about salt and it's uses to ward off evil, the verses to say to purify water (Latin AND English), the mythology of resurrection, the 9 levels of hell, the 4 horse man, and SO MUCH MORE!!Very fast pace and is not only limited for the "Supernatural" fans. A great read!