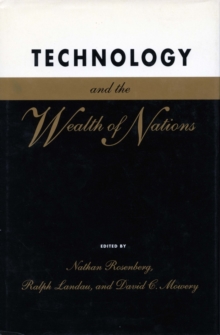 Technology and the Wealth of Nations
Hardback
Description
Most discussions of U.S. economic competitiveness focus on the creation of new technologies, but the abundant evidence presented in this timely book indicates that the key factor underpinning U.S. competitiveness is not the development of technology itself, but the factors that influence the commercialization of technology.
The importance of effective management and performance in the commercialization of new technologies reflects today's changing environment.
The post-war decades of undisputed U.S. scientific and technological hegemony have been replaced by a period in which U.S. firms are challenged by foreign competitors in some fields, and struggling to regain their former positions in others.
Although the U.S. scientific research establishment arguably has lost little if any of its post-war preeminence, the same cannot be said with respect to the performance of U.S. firms as developers, adapters, and managers of new technologies, largely because government policies have not been conducive to successful commercialization of technology.
As we enter the last decade of the twentieth century, economic policy and performance are being linked more and more closely to technology-related issues.
Technology commercialization is now recognized as critical to this linkage, and this book constitutes a state-of-the-art analysis of this vital but often overlooked aspect of technological innovation.
The sixteen papers in this volume contribute to three important tasks.
First, they draw on new developments in theoretical and empirical analysis to integrate the macro-and microeconomic dimensions of technological innovation and commercialization.
Second, they extend and enrich the macroeconomic analysis of growth, capital formation, and international economic interactions to highlight the influences of macroeconomic variables on technology commercialization.
Technology and capital investment are shown to be complementary inputs to the growth process, which means that favorable investment conditions are prerequisites for higher growth rates.
Third, they also extend and enrich the microeconomic analysis of technological innovation and commercialization, in the process providing guidance for managers seeking to improve performance in both of the areas.
Information
Format: Hardback
Pages: 443 pages
Publisher: Stanford University Press
Publication Date: 01/10/1992
Category: Macroeconomics
ISBN: 9780804720823
Free Home Delivery
on all orders
Pick up orders
from local bookshops