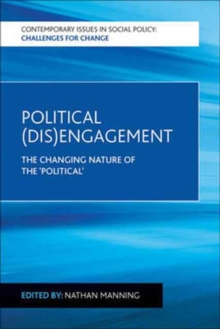 Political (Dis)Engagement : The Changing Nature of the 'Political'
Paperback / softback
Description
In what ways is the meaning and practice of politics changing?
Why might so many people feel dissatisfied and disaffected with electoral politics?
What approaches do political activists use to raise issues and mobilise people for action?
What role does the internet and social media play in contemporary citizenship and activism?
This book brings together academics from a range of disciplines with political activists and campaigners to explore the meaning of politics and citizenship in contemporary society and the current forms of political (dis)engagement.
It provides a rare dialogue between analysts and activists which will be especially valuable to academics and students across the social sciences, in particular sociology and political science.
Information
Format: Paperback / softback
Pages: 276 pages, No
Publisher: Policy Press
Publication Date: 17/01/2017
Category: Sociology
ISBN: 9781447317029