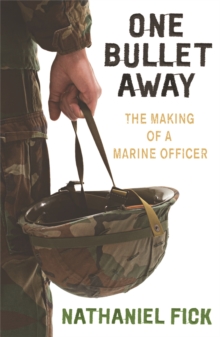 One Bullet Away : The making of a US Marine Officer
Paperback
Description
The most eloquent and personal story of a young man at war since Geoffrey Wellum's FIRST LIGHTUntil a winter evening in 1998 Nathaniel was just another history student on a comfortable career trajectory of high school to college to white collar job.
Then he went to a lecture by a Wall Street Journal reporter who had just published a book on the US Marines.
It brought forth a latent desire to break free of the 'seat belt and safety goggle, safety-first' culture: to be a warrior.
He passed the gruelling selection course and joined the Marine Corps on graduation.
Posted to a Marine Regiment in the wake of 9/11, he took part in the invasion of Afghanistan, then led a platoon of their elite Recon Battalion during the invasion of Iraq.This is not a book about the Iraq invasion as such: it is an articulate and deeply thoughtful young man's account of what it means to fight in the frontline, to risk not just death or injury, but psychological harm.
He reveals some of the awful dilemmas war can bring, horrible problems to which there is no 'right' answer, but a decision had to be made quickly -- by him alone.
In combat you are just one bullet away from death -- or promotion.
But this doesn't focus the mind: it makes it freeze up -- unless your training is so thorough that you overcome exhaustion and terror. 'Nate' took 65 men to war and came home with all 65.
He proved himself an excellent officer and won promotion, but resigned in 2003 to write this book and attend Harvard Business School.
Information
Format: Paperback
Pages: 384 pages
Publisher: Orion Publishing Co
Publication Date: 01/01/2007
Category: Military history
ISBN: 9780753821879
Free Home Delivery
on all orders
Pick up orders
from local bookshops
Reviews
Showing 1 - 2 of 2 reviews.
Review by Renne
16/06/2015
An excellent foil to Generation Kill, One Bullet Away tells the story of the initial invasion of the Second Gulf War from the perspective of an officer. Where Generation Kill gave us a unique look into the front line soldiers that lead the charge into Iraq, One Bullet Away gives an equally unique look at the same events from an officers perspective. It also delves into the invasion of Afghanistan in the wake of September 11 and finishes with a poignant look at how war can affect even the most well adjusted and idealistic men.
Review by LadyHax
16/06/2015
After being introduced to Fick via Generation Kill and being quite intrigued by this earnest young officer, it was interesting to explore his experiences is this detail and depth. His romanticisation of bygone eras of military greatness adds an interesting element to his tale, settling it in a clear framework of challenge, honour and comradeship that he struggles (although usually succeeds) in maintaining throughout each of his missions. His candour throughout is wonderful - to admit to fears and tears and frustrations requires as much courage as war itself (although getting all squeamish about deadly creatures in Australia simply made me laugh, as did the fact that the poor bugger was sipping VB when he heard about 9/11). Fick is an engaging and intelligent writer - I want to criticise him for a few platitudes, cliches and general naivete but even this old cynic ultimately found his earnestness a little disarming. Ultimately, this is an interesting account of a young officer's experiences that asks its reader to think about some of the challenges and complexities of contemporary warfare and military culture.
Also by Nathaniel Fick