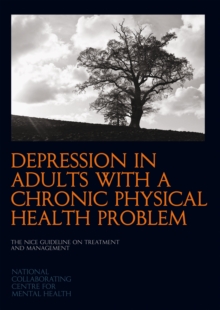 Depression in Adults with a Chronic Physical Health Problem : The NICE Guideline on Treatment and Management
Mixed media product
Description
A fifth of people with a chronic physical health problem (such as cancer, diabetes, heart disease and stroke) have depression - a rate that is two to three times higher than in those who are in good physical health.
A combination of depression and a chronic physical health problem can significantly worsen the negative outcomes for people with both conditions. The guideline reviews the evidence for the identification of depression in people with a chronic physical health problem and the associated service-level interventions (such as stepped care and collaborative care) and psychosocial, psychological and pharmacological interventions.
It places special emphasis on advising health professionals about interactions between antidepressants and any prescribed medication for the physical health problem.
As in the updated edition of the NICE guideline on depression, this guideline also covers subthreshold depressive symptoms.
It has a useful introduction to depression in adults with a chronic physical health problem and a chapter on service user, carer and staff experience of care. NICE Mental Health GuidelinesThese guidelines from NICE set out clear recommendations, based on the best available evidence, for health care professionals on how to work with and implement physical, psychological and service-level interventions for people with various mental health conditions. The book contains the full guidelines that cannot be obtained in print anywhere else.
It brings together all of the evidence that led to the recommendations made, detailed explanations of the methodology behind their preparation, plus an overview of the condition covering detection, diagnosis and assessment, and the full range of treatment and care approaches. The accompanying free CD-ROM contains all the data used as evidence, including:Included and excluded studies.
Profile tables that summarise both the quality of the evidence and the results of the evidence synthesis.
All meta-analytical data, presented as forest plots.
Detailed information about how to use and interpret forest plots.
Information
Format: Mixed media product
Pages: 422 pages
Publisher: RCPsych Publications
Publication Date: 01/12/2010
Category: Mental health services
ISBN: 9781904671862
Also in the NICE Guidelines series | View all