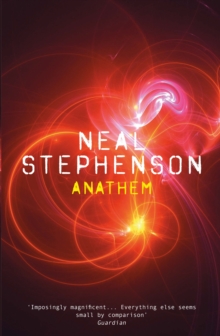 Description
Erasmas, 'Raz', is a young avout living in the Concent, a sanctuary for mathematicians, scientists, and philosophers.
Three times during history's darkest epochs, violence has invaded and devastated the cloistered community.
Yet the avout have always managed to adapt in the wake of catastrophe.But they now prepare to open the Concent's gates to the outside world, in celebration of a once-a-decade rite.
Suddenly, Erasmas finds himself a major player in a drama that will determine the future of his world - as he sets out on an extraordinary odyssey that will carry him to the most dangerous, inhospitable corners of the planet...and beyond.
Information
Format: Paperback
Pages: 1008 pages
Publisher: Atlantic Books
Publication Date: 01/09/2009
Category: Science fiction
ISBN: 9781843549178
Free Home Delivery
on all orders
Pick up orders
from local bookshops
Reviews
Showing 1 - 5 of 6 reviews.
Previous | Next
Review by lewispike
16/06/2015
This is hard SF of the most unusual sort. Normally hard SF involves a lot of checking of the structural strength of buildings, the physics of a star drive and so on.This, rather, takes some of the more controversial ideas of quantum theory and quantum consciousness and plays "what if." If you're reasonably au fait with the fields without being an expert, which would describe me I think, you'll find it an interesting walk from places where you're fairly comfortable into some fascinating ideas, fascinating ideas that have experts in their field arguing about them today.And then it's all wrapped up in a long, but engaging and interesting science fiction story where the theoretical scientists are locked away as if they are monks in seclusion, and they see the outside world only rarely.Excellent book, all the way through.
Review by penwing
16/06/2015
I approached this book cautiously. I'd failed to get into Cyrotnomicon once upon a time and so have been wary of any of his other tomes. This, however, has received much praise from members of my SciFi book group and the world generally that I felt justified in giving him another go.Why did no one tell me it was funny?? I loved it. There were only three problems - the first copy I had had some unexpectently blank pages which put me back about a week trying to get it replaced. The second was the inclusion of appendicies distorting my view of where the end was and therefore finishing it whilst waiting for my train. The final one was ... ***SPOILER ALERT*** ... feeling ill when reading about the bit with Erasmus and Jad on the spaceship - led to a night's sleep much as described in the book...Anyhoots, excellent book. Will have to reconsider others.
Review by Aslam81
16/06/2015
This is my first Neal Stephenson book and I am not disappointed. Though the plot is simple, the ideas and philosophies in the book are complicated. It clearly shows that Neal has done a lot of research and has taken help of real scientists and cosmographers to get his story been told in the most realistic way possible. Although some of the ideas and explanations are a bit difficult to understand on the first reading. I found myself reading some of the pages over and over again.But, its a quality book still. I would give it 3 stars.
Review by CountFenring
16/06/2015
Incredible book. Captivated me with it's universe and plot. The book is (quietly) an extended discussion of an utterly believable mathmatical philosophy with broader themes of reality/perception and religion.
Review by SimoneA
16/06/2015
I find it quite difficult to review this book. I enjoyed reading it, but I think I have to reread it at least once to really form an opinion. I can imagine that I will love it after the reread, because I will grasp more of the science that Stephenson discusses. On the other hand, I could be terribly bored by all the theories explained in the book. For now, I hope it will be the first, and I will keep this book around to read again during a long holiday.