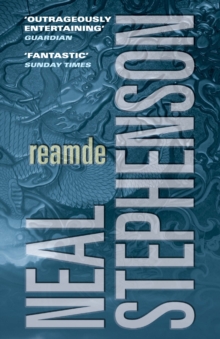 Description
Across the globe, millions of computer screens flicker with the artfully coded world of T'Rain - an addictive internet role-playing game of fantasy and adventure. But backstreet hackers in China have just unleashed a contagious virus called Reamde, and as it rampages through the gaming world spreading from player to player - holding hard drives hostage in the process - the computer of one powerful and dangerous man is infected, causing the carefully mediated violence of the on-line world to spill over into reality.
A fast-talking, internet-addicted mafia accountant is brutally silenced by his Russian employers, and Zula - a talented young T'Rain computer programmer - is abducted and bundled on to a private jet.
As she is flown across the skies in the company of the terrified boyfriend she broke up with hours before, and a brilliant Hungarian hacker who may be her only hope, she finds herself sucked into a whirl of Chinese Secret Service agents and gun-toting American Survivalists; the Russian criminal underground and an al-Qaeda cell led by a charismatic Welshman; each a strand of a connected world that devastatingly converges in T'Rain. An inimitable and compelling thriller that careers from British Columbia to South-West China via Russia and the fantasy world of T'Rain, Reamde is an irresistible epic from the unique imagination of one of today's most individual writers.
Information
Format: Paperback
Pages: 1056 pages
Publisher: Atlantic Books
Publication Date: 01/08/2012
ISBN: 9781848874510
Free Home Delivery
on all orders
Pick up orders
from local bookshops
Reviews
Showing 1 - 2 of 2 reviews.
Review by mbmackay
16/06/2015
This is an action thriller more akin to the James Bond or Mission Impossible movie genre than to other Neal Stephenson books. It is a lot of fun - as long as you suspend your critical faculties (don't ask how the Chinese characters are able to communicate so effectively in English, for example). The book lacks some of the depth and learning of Stephenson's earlier works, but is still imaginative and creative. A great romp. Read Sept 2012.
Review by simplicimus
27/08/2015
A popular MMORPG game that has severe impacts in the real world, some Chinese gamers, a band of Russian mobsters, an Eritrean-American girl, islamistic terrorists – a thriller with those ingredients will certainly be a terrific read, one would think. Well, not necessarily. The book started off quite well, and the first 200 pages or so were very entertaining. But then, the pace slowed down because there were far too many details, and far too exhaustive. Everything is described at great length: how one person manages to get from A to B without his enemies noticing it; how the terrorists make sure that their hostage doesn't escape; what a third person considers when adopting a certain strategy; the exact construction plan of a shed in which a group stayed for just one day. It almost felt obsessive at times. At maybe 400-500 pages it could have been a good thriller. But this way (the book has 1000 pages), it became just too tedious for me, and I abandoned the book after about 600 pages.