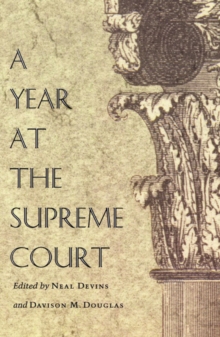 A Year at the Supreme Court
Hardback
Description
The United States Supreme Court's 2002-03 term confounded Court watchers.
The same Rehnquist Court that many had seen as solidly conservative and unduly activist-the Court that helped decide the 2000 presidential election and struck down thirty-one federal statutes since 1995-issued a set of surprising, watershed rulings.
In a term filled with important and unpredictable decisions, it upheld affirmative action, invalidated a same-sex sodomy statute, and reversed a death sentence due to ineffective assistance of counsel.
With essays focused on individual Justices, Court practices, and some of last year's most important rulings, this volume explores the meaning and significance of the Court's 2002-03 term.
Seasoned Supreme Court advocates and journalists from The New Republic, The Los Angeles Times, Newsweek, National Journal, Slate, and Legal Times grapple with questions about the Rehnquist Court's identity and the Supreme Court's role in the political life of the country.Some essays consider the role of "swing" Justices Sandra Day O'Connor and Anthony Kennedy within a Court that divides 5-4 more than any other group of Justices in the nation's history.
Others examine the political reaction to and legal context of the Court's Lawrence v.
Texas decision declaring a Texas law criminalizing homosexual sodomy unconstitutional.
Contributors analyze the Court's rulings on affirmative action and reassess its commitment to states' rights.
Considering the Court's practices, one advocate explores the use and utility of amicus curiae, or "friend of the court" briefs, while another reflects on indications of an increased openness by the Court to public scrutiny.
Two advocates who argued cases before the Court-one related to hate speech and the other to a "three strikes and you're out" criminal statute-offer vivid accounts of their experiences.
Intended for general readers, A Year at the Supreme Court is for all those who want to understand the Rehnquist Court and its momentous 2002-03 term. Contributors Erwin ChemerinskyNeal DevinsDavison M.
DouglasDavid J. GarrowDahlia LithwickTony MauroCarter PhillipsRamesh PonnuruJeffrey RosenDavid G.
SavageRodney A. SmollaStuart Taylor Jr.
Information
Format: Hardback
Pages: 256 pages
Publisher: Duke University Press
Publication Date: 13/10/2004
Category: Courts & procedure
ISBN: 9780822334378
Free Home Delivery
on all orders
Pick up orders
from local bookshops
Also in the Constitutional Conflicts series | View all