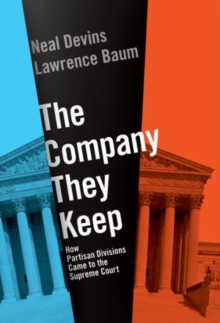 The Company They Keep : How Partisan Divisions Came to the Supreme Court
Hardback
Description
Are Supreme Court justices swayed by the political environment that surrounds them?
The intuitive response of most is "yes," and most point to trends in electoral politics as well as the nature of the relationship between the three branches of government.
It is not that simple, however. As the eminent law and politics scholars Neal Devins and Larry Baum show in The Company They Keep, justices today are reacting to far more subtle social drivers than pressure from other branches of government or mass public opinion.
In particular, by making use of social psychology, they examine why Justices are apt to follow the lead of the elite social networks that they are a part of.
That is, the justices take cues primarily from the people who are closest to them and whoseapproval they care most about: political, social, and professional elites.
The result is a court in which the justices' ideological stances reflect the dominant views in the appointing president's party.
Devins and Baum argue that today's partisanship on the Court is also tied to the emergence of the conservativelegal network-a social network that reinforces the conservative leanings of Republican appointees.
For earlier Courts, elite social networks were not divided by political party or ideology, but for today's Court, elite social networks are largely bifurcated by partisan and ideological loyalties, and the Justices reflect that bifurcation.
A fascinating examination the factors that impact decision-making, The Company They Keep will reshape our understanding of the contemporary Supreme Court.
Information
Format: Hardback
Pages: 240 pages, 4 black and white line drawings
Publisher: Oxford University Press Inc
Publication Date: 15/02/2019
Category: Politics & government
ISBN: 9780190278052
Free Home Delivery
on all orders
Pick up orders
from local bookshops