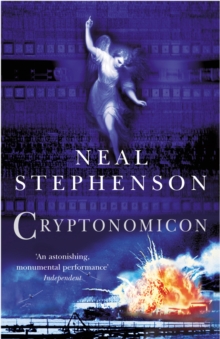 Description
A gripping and page-turning thriller that explores themes of power, information, secrecy and war in the twentieth century.
From the author of the three-volume historical epic 'The Baroque Cycle' and Seveneves. Neal Stephenson hacks into the secret histories of nations and the private obsessions of men, decrypting with dazzling virtuosity the forces that have shaped the past century.
He weaves together the cracking of the Axis codes during WWII and the quest to establish a free South East Asian 'data haven' for digital information in the present.
Information
Format: Paperback
Pages: 928 pages
Publisher: Cornerstone
Publication Date: 27/04/2000
ISBN: 9780099410676
Free Home Delivery
on all orders
Pick up orders
from local bookshops
Reviews
Showing 1 - 5 of 6 reviews.
Previous | Next
Review by djamanning
16/06/2015
Fantastic mix of Maths, History and big ideas about the internet. Wish I'd bought it at 16 when it came out.
Review by wendyrey
16/06/2015
Set in a only slightly alternative (but even more paranoid and corrupt) version of reality, a story set mostly in WW2 Pacific rim and more or less present day. Mainly about codes, making breaking and using but also a war story. Includes some real people as minor characters and a few family generational chains. I got a bit confused in the beginning with the Waterhouses and Shaftoes but soon got the hang of it. Occasional blasts of cryptography that can be easily skipped. I am not usually good at long books but it managed to keep my interest through most of its nine hundred pages.A cut above the average.
Review by monofiopia
16/06/2015
I really enjoyed other Stephenson books but after getting about a third of the way into this epic, I realised that I did not care about any of the characters, I did not care about any of the unnecessary and overdetailed reams of technical information, and I did not care at all what happened next. All I can really say is that it was clearly well researched and the author has put a lot of effort into documenting his research. It would perhaps have been nicer for the average reader though if the book read less like a technical manual.
Review by celephicus
16/06/2015
Although this is very much a historical novel, it is written by an author known for his science fiction (SF). Thus, it is stocked by SF bookshops, shelved under SF in libraries, reviewed by SF reviewers, etc (you can probably see where this is going). The actual SF content is fairly minor. The characters are all competent or brilliant. They also seem to have no inner life, no self-doubt, they just seem to exist to propel the action forward. And there is plenty of that, and plenty of ideas.Laurence W.'s teen idea of sex (often with just himself) is childish in the extreme, and backs up my case that Crypto... is a novel for SF readers, who are emotionally (if not always actually) 15 y.o. males.I also think that the author's grasp of history is, well, a bit shallow. He has read a lot of popular history books, but has he read them well enough to synthesise a new view of history? His history is fairly conventional. Great things happen because great (exceptional) people make them happen. Stephenson has often been compared with Thomas Pynchon's early work, say up to Gravity's Rainbow). How does Pynchon view the forces of history? Something vast and unfathomable, ineffable even (look it up). The characters in GR are pushed by the new power structures gelling at the end of WW2 whose culmination was the building of the rocket, which ushered in the cold war, ICBMs, etc. One character, Slouthrop, rebelled against these forces, and his character is dismantled by these forces, his wave function diffusing, becoming nearly zero at all points in space. At the end of the novel, the flow of time stops altogether. At least it finished properly, and instant prolongs to infinity.Crypto... just seems to speed up when the author realises that he had better finish up.And why title it with a name that recalls Lovecraft's Necronomicon, a book that if read causes madness, if not the summoning of alien evil from far dimensions. The book in Crypto.. is just a crypto manual, whose worst side-effect is somnia (antonym of insomnia).
Review by mbmackay
16/06/2015
This book is category defying. Stephenson is sold in the Sci-fi section of bookshops, but the book is more technically-literate historic fiction. This is a thriller saga set across the period from the start of WW2 to the current period loosely linking different generations of families involved in codes and code-breaking. Good story, incredibly diverse facts and informative, but occasionally self indulgent. Why aren't there more books like this? Read June 2009.