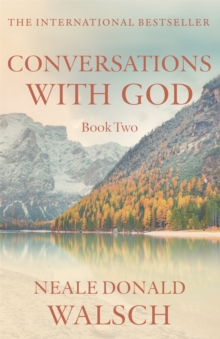 Conversations with God - Book 2 : An uncommon dialogue
Paperback
Description
When Neale Donald Walsch was experiencing a low point in his life, he decided to write a letter to God. What he did not expect was a response and the result was Conversations with God Book 1. In Book 2, the dialogue expands to deal with the more global topics of geopolitical and metaphysical life on the planet, and the challenges now facing the world. This incredible series contains answers that will change you, your life, and the way you view other beings.
Information
Format: Paperback
Pages: 288 pages, none
Publisher: Hodder & Stoughton General Division
Publication Date: 01/07/1999
Category: Nature & existence of God
ISBN: 9780340765449
Other Formats
EPUB from £6.99
Paperback from £14.85
Free Home Delivery
on all orders
Pick up orders
from local bookshops
Reviews
Showing 1 - 1 of 1 reviews.
Review by helenaharper
16/06/2015
The conversation that was started in Book 1 between Neale Donald Walsch (an ordinary man with a lot of common problems) and God carries on here and continues to fascinate. There are intriguing discussions about organised religions, the nature of time, Einstein's theory of relativity (but a non-scientist like me can follow what's being said!), sex, education, government and politics, the economy and war. Two things are emphasised - we should cease to think of ourselves as separate beings (because in truth we're all one) and we should adopt the concept of visibility in everything i.e. show clearly to others what we're doing and why, including our financial matters – nothing should be hidden. If we adopted these two principles, then the world would be transformed. Anyone who thinks we live in a 'civilised' society, should think again after reading this book. In order to be civilised we need to have a society where we can solve conflict without violence, live without fear, act without self-interest and love unconditionally, and we are still far, far from being able to do this after thousands and thousands of years. In addition, we have an education system that teaches facts rather than wisdom and doesn't encourage young people to think for themselves. Having been a teacher for many years, I found this chapter particularly thought-provoking. I duly resolved to try and find more ways to encourage my pupils to think for themselves, but became increasingly frustrated with the lack of time to do this (because of syllabus demands), and really it was the start of me reassessing what I was doing in life and has ultimately led to some life-changing decisions. Perhaps, after reading this book (and the others in the series as well), it will be for you too. If nothing else it will expand your horizons and show you a fascinatingly different way of looking at things. Highly recommended!