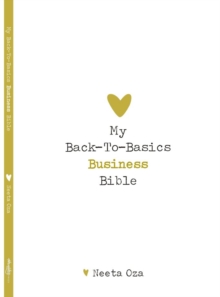 Description
My Back-To-Basics Business Bible is a must-read A-Z guide for anyone in need of a confidence-boost when setting up a business, becoming an entrepreneur, or building a start-up. Those early days in a new business can be a steep challenge, and in this powerful little pocket-book, fitness entrepreneur, Neeta Oza, shares an indispensable mini-guide to how she helps herself during times of doubt, and times of delight. A must-read that you can dip in and out of without taking up too much of your precious time, this little book will lift up everyone who needs some words of comfort and advice during the tumultuous early days of entrepreneurship.
My Back-To- Basics Business Bible is packed with pearls of wisdom the author has learnt from many people, near and far.
Starting her own fitness business changed Neeta's life in many amazing ways, and she is constantly learning from this journey; all day, every day!Written as part of her own life journey, this powerful littlebook is packed with simple tips, ideas and supportive words, to potentially turn your life around.
It is part of a Mini Mindset Series designed to help people at various stages of their lives, relationships and careers.
Information
Format: Paperback / softback
Pages: 64 pages
Publisher: Hashtag Press
Publication Date: 30/05/2019
Category: Entrepreneurship
ISBN: 9781999300630
Free Home Delivery
on all orders
Pick up orders
from local bookshops