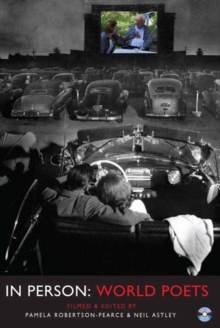 In Person: World Poets
Paperback
Description
In 2008, Bloodaxe published the world's first DVD-anthology, In Person: 30 Poets<, a new concept in publishing: readings by 30 poets published by Bloodaxe in its first 30 years captured on film, with all the poems included in the footage printed in the book of the films.
Its sequel, In Person: World Poets, is another international collaboration between Bloodaxe Books and award-winning film-maker Pamela Robertson-Pearce.
Her style of filming combines directness and simplicity, sensitivity and warmth - the perfect combination for these intimate readings.
It is as if the poet were sitting in the room with you, reading just to you, and sometimes saying a few things about the poems.
This new compilation on DVD with accompanying anthology covers a wide range of poets from many parts of the world, including America, Australia, Canada, Denmark, Estonia, Finland, Guyana, India, Italy, Jamaica, Korea, Lithuania, Macedonia, Malawi, the Netherlands, Pakistan, Poland and Sweden, as well as from Britain and Ireland.
Most of the films present informal, one-to-one readings, with the poets reading to you in person.
They enhance your appreciation of the poetry.You hear how the poems sound; you see how the poets read and present their work. Poets writing in other languages read in the original with the English translations read by themselves or by their translators.
Some poets are also captured in live performance. T.S. Eliot once described poetry as 'one person talking to another', while W.H.
Auden believed it was essential to hear poetry read aloud, for 'no poem, which when mastered, is not better heard than read is good poetry'.
In Person: World Poets presents the oral art of poetry in that spirit.
There are nine hours of readings on three DVDs pouched inside the back cover, and all the poems included in the films are printed in the book, with poems written in other languages alongside the translations, enabling you to follow either language as they are read on the film.
Like the original In Person: 30 Poets, this new compilation gives readers a virtual festival of poetry in DVD and book form for viewing at home on laptop or TV.
It is also a unique educational resource for the teaching and appreciation of poetry.In Person: World Poets includes: Robert Adamson, Moniza Alvi, Antonella Anedda, Simon Armitage, Jean 'Binta' Breeze, Dan Chiasson, Stewart Conn, Katie Donovan, Tishani Doshi, Ruth Fainlight, Roy Fisher, Tua Forsstrom, Tess Gallagher, Deborah Garrison, Philip Gross, Robert Hass, Rita Ann Higgins, Tony Hoagland, Esther Jansma, Jenny Joseph, Jaan Kaplinski, Luljeta Lleshanaku, Nikola Madzirov, Maitreyabandhu, Samuel Menashe, Julie O'Callaghan, Leanne O'Sullivan, Clare Pollard, Lawrence Sail, Carole Satyamurti, Karen Solie, Piotr Sommer, Ruth Stone, Arundhathi Subramaniam, Matthew Sweeney, Pia Tafdrup, Tomas Transtromer, Brian Turner, Chase Twichell, Priscila Uppal, Ko Un, Tomas Venclova, Robert Wrigley, and other poets still to be confirmed.
Free Home Delivery
on all orders
Pick up orders
from local bookshops