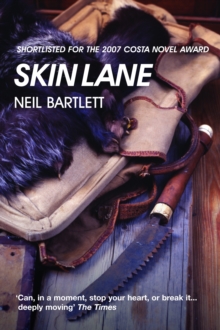 Description
At 47, Mr. F?s working life on London?s Skin Lane is one governed by calm, precision and routine.
So when he starts to have frightening, recurring nightmares, he does his best to ignore them.
The images that appear in his dream are disturbing ?
Mr. F can't for the life of him think where they have come from.
After all, he's a perfectly ordinary middle-aged man.
As London?s crooked backstreets begin to swelter in the long, hot summer of 1967, Mr. F?s nightmare becomes an obsession. A chance encounter adds a face to the body that nightly haunts him, and the torments of his sweat-drenched nights lead him ? and the reader ? deeper into a terrifying labyrinth of rage, desire and shame.
Part fairy-tale, part compelling evocation of a now-lost London, Neil Bartlett's critically-acclaimed third novel is his fiercest piece of writing yet: cruel, erotic, and tender.
Information
Format: Paperback
Pages: 352 pages
Publisher: Profile Books Ltd
Publication Date: 27/03/2008
ISBN: 9781852429928
Free Home Delivery
on all orders
Pick up orders
from local bookshops
Reviews
Showing 1 - 5 of 5 reviews.
Review by gaskella
16/06/2015
Mr F has worked for 33 of his 47 years in the fur trade in 60s London and is a master cutter who takes pride in his work. A bachelor, he leads a strictly ordered life, running to a strict to the minute timetable that rarely deviates. It's not a normal life, but then neither was his female-free childhood. Then he starts to have dreams, nightmares in which he discovers the bleeding body of a beautiful youth tied up in his bathroom. They won't go away, and he finds himself obsessing about the body, looking at young men when he's on the train. At work in Skin Lane, in the fur-trading area of the city, Mr F has further reason to be perturbed. He's put in charge of training the nephew of the firm's owner in cutting as part of learning the business. The boy has been nicknamed Beauty by the girls in the sewing room, and Mr F although initially aloof is increasingly interested in the boy, then realises that he resembles the body in the shower …This chilling drama will not be everyone's cup of tea. Firstly, it is told through a knowing narrator's voice, who always knows what's coming next; we are manipulated all the way through and this device successfully ratchets up the tension notch by notch. Secondly, we learn all about the fur trade – from selecting skins, cutting, sewing, and finally the selling of fur coats to men who give them to their floosies for sex. The book started slowly, building up the story of Mr F's over-normal life, and learning about the trade which made fascinating reading. All along though the narrator gives a sense of nasty things to come. I must admit, when things started to turn nasty, I thought the narrator was leading us down a more grizzly path than actually happened (an overactive imagination or what!), I had visions of ghoulish Jack the Ripper style murders to come. However what we got was much more subtle than that and also inextricably linked to the fairytale of Beauty and the Beast, which was Mr F's childhood favourite. I can honestly say I had no idea what was going to happen or how things would end. I was expecting Mr F to be a real monster, yet ended up feeling sorry for him, instead hating Beauty's beastly ways. This was a masterly novel of suspenseful storytelling. If you have the stomach for it, I'd strongly recommend it. (9/10, I bought this book).
Review by CBJames
16/06/2015
Skin Lane by Neil Bartlett is the rare book that can break your heart while scaring you to death. Neil Bartlett's retelling of Beauty and the Beast takes place in 1960's London during the waning days of the fur trade. At one time there was a real Skin Lane, an area of London where all of the nations furriers operated, making a wide range of fur coats and other garments. Already the story is a little creepy.The main character, Mr. F., has worked for the same fur manufacturer for 33 years. He has worked his way up from sweeping the floors to head cutter a supervisory position that will be as high as he can go since he is not part of the family that owns the business. Mr. F. has lived his life alone, sleeping in a single bed that he has never once shared with anyone male or female. He lives a simple, quiet, private life that satisfies him fully, until on night he begins to have a disturbing recurring dream.He dreams that he finds a beautiful young man, bound and gagged, hanging upside down in his bathroom shower. Each night he dreams that he goes closer and closer to the body hanging in the shower, studying it, examining its skin the way he would examine a fur he has to cut into the pieces of a new coat. He wakes in a sweat, afraid to fall asleep again, afraid of what his dream means.At work, he is given the job of supervising his boss's young nephew who is learning the trade from the ground up in order to take over the business. The nephew is so handsome at 16-years-old that he is soon known as Beauty by the women who work in the sewing room where he starts his education in the fur trade. In his dreams, Mr. F. gets closer and closer to the body in his shower, close enough to see that it is dead, but not close enough to see who it is. Once Beauty is assigned to work under Mr. F., they begin to form a close relationship, close enough for Beauty to go to Mr. F. for help when he gets into trouble with one of the girls. As Mr. F. becomes physically and emotionally attracted to Beauty, he sees that the body hanging in his shower he dreams of nightly is that of the young man.Neil Bartlett is a consummate story teller. The introductory sections that detail Mr. F.'s daily routine, the slow build up of tension as Mr. F. gets closer to young Beauty are not "exciting" as they might be a more conventional thriller. But as the details of Mr. F.'s dream and the inner workings of the fur trade emerge over the course of the novel, a tension builds that is much more authentic and disturbing than what is found in conventional thrillers. The effect is like watching a car wreck that gets worse before your eyes. You probably think you know what is going to happen in the end. But you don't. Neil Bartlett sets things up to lead the reader to suspect an outcome, but what finally does happen is both unexpected and heartbreaking.
Review by jeniwren
16/06/2015
Skin Lane by Neil Bartlett This novel was shortlisted for the Costa Award in 2007. It is a retelling of 'Beauty and the Beast' set in London in the 60's at the end of the fur trade. The main character simply known as Mr F. is a solitary man whose life is meticulous in routine. He has worked at the same establishment for over 30 years and each day retraces his steps exactly returning home spending his time alone living in a small flat with little human contact. One day his predictable existence is altered when the owners nephew is apprenticed to him. He is chief cutter having worked his way up from a sweeper at the furrier. Soon he begins to experience a recurring haunting dream. Mr F. senses a connection between his dreams and this young man whom the women in the factory have nicknamed 'Beauty'.This is a very compelling and dark book and not like anything I have ever read before. The erotic tension is palpable but ultimately there is no sex. However it builds and builds and then the omnipresent narrator pulls you back just enough so that you catch your breath and then it begins all over again. Highly recommended.
Review by StellaSandberg
16/06/2015
A perfect retelling of the Beauty and the Beast, better than Angela Carter, with all the fierce, sinister eroticism of the fairy tale intact. The narrating storyteller directly addressing the reader and keeping some of the protagonist's integrity is just perfect for the story, and the exquisite style creates an atmosphere so dense that closing the book is like waking up from a dream - not, mind you, like a brutal awakening into harsh reality but like when you can't shake the dream off and it colours all of your waking life. After just reading the prologue I was enthralled, and even though I didn't have the opportunity to return to the book for quite a while it lived in my mind, inspired a story and made me watch Cocteau's Belle et la Bete (if you haven't, do - there in the clumsy yet alluring, melancholy Beast you have an image of our Mr F of Skin Lane. Or, if you need another image, several of Alan Rickman's characters have that same painful, stumbling passion, the paradoxal grace of an ogre desiring fragile humans) The raw, physical need of desire is perfectly captured and contagiously exciting, making this the sexiest reading experience I can remember, though not of course unmixed with other affects like the uncomplicated lust of good pornogrpahy. I was so afraid of losing this gem of a read that I repeatedly worried the story was veering towards the too domesticated or neatly psychoanalytical, but it stayed enchanting, surprising and true to the very end.
Review by bluepiano
16/06/2015
Well, this was disappointing. The book started promisingly enough; I'm quite fond of protagonists who are ineffectual and invisible souls seemingly doomed to unhappiness, and Bartlett began to portray one of them well. Moreover he held my interest in his account of the work of a furrier and his description of the old dark environs of this particular furrier's were atmospheric. But by the time I'd got halfway through I was as irritated as I was interested, and not long after that I found I wasn't reading closely. By the last 50 pages I was hurriedly skimming.What particularly annoyed me was the tone of the novel. The omniscient narrator for some reason occasionally and abruptly slips into casual references to himself and the reader. The device seems a random choice for this particular book as here it's needless and pointless; in fact, irritation aside, it distances the reader from the protagonist and the events rather than enhancing them or impressing them upon one. And oh good lord, after a dozen phrases like 'I think Mr F felt . . . ', 'most of us have sometimes thought . . .' and 'you probably remember how . . . ' I was mentally growling 'Speak for yourself, Bartlett'. After a few dozen more I imagined myself rebuking the author with the chilliest of polite smiles and a 'Do shut up, please.' In the end I'd reached an emphatic and over-enunciated 'BUGG-ah OFF'. That last one was aloud.Not only does Bartlett insist upon the reader's complicity with him, he tells when he's already shown, his use of repetition is fairly heavy-handed, he inserts sometimes uninteresting tidbits of London history even (and most hamfistedly) when the story should be at its most taut. Moreover for what it is and for the effect that I suspect is being sought, the novel's much too long. Like the tone of the narration a lot of what's included in it seems unnecessary, and the result again is to blunt the impact of the story itself. I've read quite a few novels and novellas with similar protagonists that were far more powerful in many fewer pages ( and I don't know how telling it is that the ones that first came to mind were originally in French) . Written without those companionable asides but with much greater tightness and focus Skin Lane might have been a very good book.