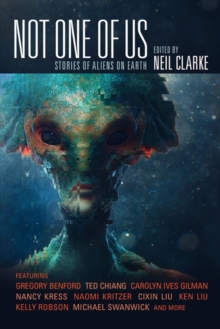 Not One of Us : Stories of Aliens on Earth
Paperback / softback
Description
Mankind comes face to face with extraterrestrial life in this anthology from Clarkesworld publisher Neil Clarke.
Here are stories that aren't afraid to tackle thorny issues like race, immigration, nationalism, religion, and politics. Science fiction writers have been using aliens as a metaphor for the other for over one hundred years.
Superman has otherworldly origins, and his struggles to blend in on our planet are a clear metaphor for immigration.
Earth's adopted son is just one example of this "Alien Among Us" narrative. There are stories of assimilation, or the failure to do so.
Stories of resistance to the forces of naturalization.
Stories told from the alien viewpoint. Stories that use aliens as a manifestation of the fears and worries of specific places and eras.
Stories that transcend location and time, speaking to universal issues of group identity and its relationship to the Other.
The table of contents includes:Touring with the Alien by Carolyn Ives GilmanLaws of Survival by Nancy KressAt Play in the Fields by Steve Rasnic TemThe Ants of Flanders by Robert ReedTaking Care of God by Cixin LiuWater Scorpions by Rich LarsonThe Three Resurrections of Jessica Churchill by Kelly RobsonMen are Trouble by James Patrick KellyThey Shall Salt the Earth with Seeds of Glass by Alaya Dawn JohnsonBits by Naomi KritzerAnd Never Mind the Watching Ones by Keffy R.
M. KehrliDark Heaven by Gregory BenfordNine-Tenths of the Law by Molly TanzerFive Stages of Grief After the Alien Invasion by Caroline M.
YoachimTime of the Snake by A.M. DellamonicaThe Fear Gun by Judith BermanTendeleo's Story by Ian McDonaldThe Choice by Paul McAuleyPassage of Earth by Michael SwanwickReborn by Ken LiuStory of Your Life by Ted ChiangThese writers grapple both the best and worst aspects of human nature, and they do so in utterly compelling and entertaining ways.
Information
Format: Paperback / softback
Pages: 608 pages
Publisher: Night Shade Books
Publication Date: 13/11/2018
Category: Anthologies (non-poetry)
ISBN: 9781597809573
Free Home Delivery
on all orders
Pick up orders
from local bookshops