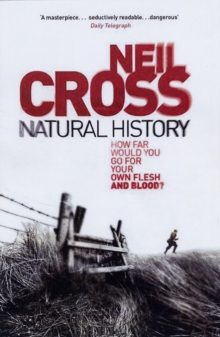 Natural History
Paperback
Description
Patrick's son Charlie has left home in disgrace. His zoologist wife Jane is on a field trip in Zaire and his daughter Jo is engrossed in her studies.
So Patrick is left alone to look after the ailing Devonshire monkey sanctuary that he and Jane took on in a bid to save their marriage.
Alone, that is, but for the big, panther-like cat that preys around the park, evading capture, lurking in the shadows and in the back of Patrick's mind as he tries to uncover the truth behind the murder of their oldest female primate.
Patrick's fears begin to fade. But then one night something happens that is so shocking, so deplorable, that it rips apart everything he ever held to be true - and unleashes a horror he could never have imagined...
Information
Format: Paperback
Pages: 288 pages
Publisher: Simon & Schuster
Publication Date: 01/09/2008
ISBN: 9781416522799
Other Formats
Paperback / softback from £11.39
EPUB from £5.99
Free Home Delivery
on all orders
Pick up orders
from local bookshops
Reviews
Showing 1 - 3 of 3 reviews.
Review by jbrubacher
16/06/2015
Jane and Patrick take on Monkeyland, a failing animal sanctuary on the Devon coast. But Jane never stops looking for the next cause and soon she's off in Zaire, leaving Patrick to take care of the kids while wondering who would purposefully poison Rue, the most gentle and loving gorilla in the sanctuary.The ominousness in this book sort of crept up on me. I enjoyed reading it and didn't notice it was almost over until all hell broke lose. Despite that these "animal lovers" also apparently love to kick dogs in the butt, bash rats brains in and watch monkeys kill ducklings (I don't get it,) they are mostly realistic characters, occasionally endearing, and I wanted to see the family do well. I never suspected how well the author would make everything fall spectacularly apart.It isn't a crime novel or a horror novel so much as a story about a family with all its normal and abnormal bits, and a story about the differences between human beings and our monkey counterparts (or lack of difference.) It's a quiet novel with a pretty big impact.
Review by DekeDastardly
16/06/2015
Natural History is a peculiar book, one which seems better on reflection than whilst reading it. The characters, drawn from a family unit and their associates, are believably understated though mostly dysfunctional. The circumstances of running a small primate zoo provide the food for thought and various comparisons between the behaviour, often seemingly extreme and incomprehensible, of the animals and their human carers.The focus of the book is Patrick, devoted to a wife who finds celebrity which provides her with escape from the confines of the zoo and the family and becomes a long term and distant absentee as things fall apart at home. The cameo role of Patrick's Beast of Bodmin style big cat sighting generates tension and foreboding for a while and it was as I was really beginning to lose interest in the mundane lives of the characters that I expected, hoped even, that the involvement of the beast would come to the fore; it does but not as one might expect. When it arrives the sudden, explosive climax is cleverly crafted with more than one twist and a revelation which solves an earlier mystery. The aftermath to the violence affords reflection and comparison of the the nature of the animals and their human counterparts, their instinctive behaviour in captivity or relative freedom, their bonds and loyalties, cruelty and kindness, the species separated only in their evolved state of intellect, capability and ingenuity. Luck plays a part in allowing the family to move on, the ill fated zoo closes down and in breaking free from the shackles of the zoo and his offspring Patrick finds comfort in surprising and heartwarming manner. So, that should be that, only we might remember that there's a killer still on the loose.
Review by Daftboy1
16/06/2015
I really enjoyed this book. Set in Devon during the late 1990s so Halle Bopp the comet makes an appearance. I felt for the Jones family and really liked them mostly Patrick the father. Unusual story buying the monkey sanctuary Jane, Patricks wife going off to Africa. You keep waiting for something to happen and you feel it coming but when it does its shocking. (I dont want to spoil the story but this is a great book)