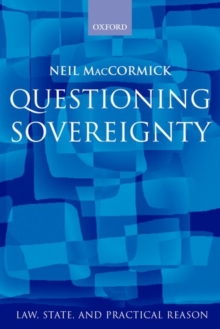 Questioning Sovereignty : Law State and Nation in the European Commonwealth
Paperback / softback
Description
In this timely book Neil MacCormick examines the transformation of sovereignty in the United Kingdom and the European Union, the transition from 'sovereign states' to 'post-sovereign states', devolution and nationalism and the future of the British union. It applies the institutional theory of law to a general inquiry into the relations of law and state, and to the question of the character of a Rechtsstaat or state under the rule of law. This clears the ground fora historical/analytical review of the United Kingdom as union state, and of the Benthamite or Diceyan view of its constitution, grounded in the idea of sovereignty. Can that sovereignty survive diffusion of power within the British state? Or can it survive the development of the European Union andthe supremacy in it of European Community law? Was there a revolution in 1972, when Parliament enacted the European Communities Act, or later, when the House of Lords held that subsequent Acts of Parliament should be 'disapplied' when they conflict with Community law? The potential for conflict between member state constitutions and European legal order is no less in other member states - Germany, France, Ireland and the others. Indeed the issue is perhaps whether in the long run constitutional conflicts are inevitable. This leads on into a consideration of pluralistic as against monistic accounts of legal order viewed as a whole, and finally to a review of the concept of sovereignty, and of the possibility that there really could be a new order ofpost-sovereign states within a non-sovereign confederalunion in Europe. If so, what becomes of democracy, and how can the democratic deficit in Europe be redeemed? The existing constitution of the 'European Commonwealth' is reviewed critically as an example of a mixed constitution and an argument is proposed about the value or values attaching to democracy and to subsidiarity in this vast commonwealth.
Connected to subsidiarity is the issue of contemporary politics of identity all over Europe and beyond.
MacCormick puts forward a carefully argued case for amoderate and liberal form of nationalism that sets universal but non-absolute principles of self-determination. The case is finally pressed home in relation to the relations of Scotland to the other countries of the British Isles, and an argument put for the idea of mutual independence within a Council ofthe Isles and the European Union.
Information
Format: Paperback / softback
Pages: 224 pages
Publisher: Oxford University Press
Publication Date: 01/01/2002
Category: EU & European institutions
ISBN: 9780199253302
Free Home Delivery
on all orders
Pick up orders
from local bookshops