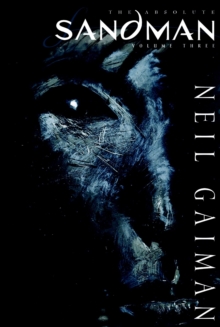 Absolute Sandman HC Vol 03
Hardback
Description
Written by Neil Gaiman Art by Various Cover by Dave McKean The third volume collecting Neil Gaiman's seminal, award-winning series starring the Dream King in deluxe format.
ABSOLUTE SANDMAN VOL. 3 presents several key SANDMAN tales in a slipcased hardcover edition, including "Brief Lives," in which the Sandman's sister Delirium prevails upon her older brother to help her find their missing sibling, Destruction.
But their journey through the Waking World has dramatic repercussions for their family and also for the relationship between the Sandman and his wayward son, Orpheus.
Also included is the spectacular short story "Ramadan," a tale of a young king of ancient Baghdad and the deal he strikes with The Sandman to grant his city immortality, with spectacular illustrations by P.
Craig Russell (Fairy Tales of Oscar Wilde, The Jungle Book). Never-before-collected bonus features include pin-up pages from galleries in THE SANDMAN #50 and SANDMAN SPECIAL #1, the Desire story from VERTIGO: WINTER'S EDGE #3, THE ENDLESS GALLERY #1, script and thumbnails from THE SANDMAN #50, and a section on the Endless retail products (poster, statues, t-shirts, Little Endless and more)!
Plus, an introduction by artist Jill Thompson. Advance-solicited; on sale May 28 * 8.25" x 12.5" * 616 pages, FC
Information
Format: Hardback
Pages: 616 pages
Publisher: DC Comics
Publication Date: 11/06/2008
Category: Comics and Graphic Novels
ISBN: 9781401210847
Free Home Delivery
on all orders
Pick up orders
from local bookshops
Reviews
Showing 1 - 5 of 6 reviews.
Previous | Next
Review by ErlendSkjelten
16/06/2015
This volume collects the Brief Lives storyline, where Dream and Delirium go looking for their missing brother, and the World's End story, where several strangers are marooned in a mysterious inn during a reality storm. It also contains some short, one-issue stories, including the story Ramadan where the caliph of Baghdad sells his city, as well as extensive galleries and the full script of Ramadan.Neither of the two longer storylines are among my favourite Sandman stories. World's End in particular, I feel is on the weaker side, I don't care much about the characters involved, or about their stories, which only become interesting when there are fleeting glimpses of the larger mythology of the series. Only towards the very end does something happen which is of interest to me, so it took me quite some time to get through it, I kept taking pauses and reading other things along the way.Brief Lives, on the other hand, is quite good. Though I say it is not among my favourites, this has more to do with so much of Sandman being extremely good than Brief Lives being poor. Possibly, the reason I don't go nuts for it is that it heavily features Delirium, whom I've never quite seen the attraction of. It is an interesting story, not least because it finally introduces us to the missing Endless, and for its connection to the Orpheus myth. And, of course, it contains important set-up for the rest of the series. In general I quite enjoy stories where the mundane is invaded by the fantastic, so I'm not really sure why this one doesn't sit so well with me.Ramadan, however, is one of my favourites. It is a beautiful story, written to resemble a tale from One Thousand and One Nights, and though it's been a while since I last looked in a copy of that, it seems to me a very good emulation of the style. The writing here is superb, and aside from some of the one-shots in World's End, so are the characters. The drawings are beautiful throughout, I have no complaints at all on the art. And seeing Death and Dream as children is practically worth the price of admission.As for the extras, I don't really have any complaints, but I'm not singing praises either. The many gallery pictures are pretty, but I'm just not the type of person who enjoys looking at that sort of feature for long. The script for Ramadan is interesting in its way, I suppose, but I'm not sure why I would read the story in script form when it's available in full-fledged comic form just a few pages earlier. I did however enjoy the little documentary pieces on Sandman merchandise, specifically the Little Endless statues. Ultimately, this has to be seen as part of the longer Sandman story rather than a work in its own right, I think. It doesn't make sense to recommend the third quarter of a story to people, so I have to recommend Sandman as a whole. And I do. Very strongly. Sandman is a fantastic comic, and you are definitely missing out if you haven't read it.And if you have read it, and are wondering whether the over-sized deluxe edition is worth it, I'd have to say yes. Not, perhaps, if you already own the series, but if you've been holding off on buying it, this is what you've been waiting for. The book itself is beautiful; large, heavy and bound in leather, and looking just as mysterious and inviting as a Sandman book should.
Review by Crowyhead
16/06/2015
AWESOME. The larger format and better paper quality takes an already fantastic series of comics and makes it even better. The colors practically glow on the page, and there are several two-page spreads that are nothing short of breathtaking. One of the real treats is the famous "Ramadan" story, featuring P. Craig Russel's amazing artwork. When I got this collection, I wasn't sure if it was "necessary" since the color and overall print quality of the original comics was already much better than those earlier in the series. I don't know if it's "necessary" or not, but oh, it's a fantastic thing to have.
Review by AHS-Wolfy
16/06/2015
Covers issues 40 to 56 of the Sandman series as well as <i>The Song of Orpheus</i> special. Featured in this volume are two main story arcs, Brief Lives and World's End as well as a couple of other single-shot stories. The Song of Orpheus is a prequel of sorts to Brief Lives and we learn how the son of the Lord of Dreams ends up in the state he was in when featured in the last volume and of the estrangement he has with his father. Brief Lives has Delirium enlisting Dream's help in searching for their missing brother. Having being turned down first by Desire and then Despair, Delirium turns to Dream expecting the same rebuttal but is surprised when he agrees to assist. Dream, of course, has reasons of his own for going on the quest. World's End has many a tale to tell when travellers find themselves sheltering in an inn of that name to avoid the worst from a very strange storm. The other stories are <i>The Parliament of Rooks</i> which features Cain and Abel and Eve telling tales to a human child and <i>Ramadan</i> which is Gaiman's homage to the Arabian Nights.Extras: There are a couple of galleries which feature different representations of the Endless by other artists, a short story of Desire, a feature on other products available from the Sandman range, a couple of pages on hoe the Little Endless became a fan hit, the script and thumbnails for Ramadan and a feature on the subsequent products created from that story. An afterword from Neil Gaiman and the biographies of those who worked on these issues round everything off.Loved pretty much everything in this collection and it moves into my favourite of the 3 editions I've read so far.
Review by jawalter
16/06/2015
Again, there's little I can say about the greatness of <i>Sandman</i>. The contrast between the whimsy of Dream and Delirium's search for Destruction and its deadly consequences is great. I will confess that knowing the outcome of the entire <i>Sandman</i> story makes the stories told in the World's End feel a little bit like filler material, which is a shame, since, despite serving primarily as a setup to the story of Dream's death, those tales are some of the highlights of the series. "A Tale of Two Cities", in particular, stands out as one of my favorite moments.
Review by A_Reader_of_Fictions
16/06/2015
The third massive collection of Sandman graphic novels is a very even volume, with almost every chapter telling an interesting story, many of them weaving together fabulously. The two main plot threads in this one are the tale of Orpheus, who was fathered by Dream, and of a number of travelers, stranded at the World's End Inn, telling stories to pass the time away. Dark and compelling.