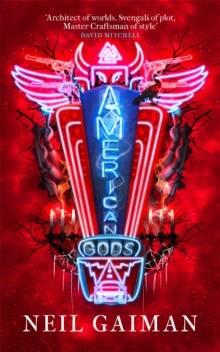 Description
American Gods, the extraordinary, highly acclaimed epic novel from storytelling genius and international bestseller Neil Gaiman, was brought vividly to life this year in the hottest major TV show of 2017 , and Amazon Prime video series starring Ricky Whittle, Ian McShane, Emily Browning and Gillian Anderson.
For fans of The Book of Dust and Mythos by Stephen Fry.After three years in prison, Shadow has served his time. But as the days and hours until his release tick away, he can feel a storm brewing.Two days before his release date, his wife Laura dies in a mysterious car crash, in adulterous circumstances. Dazed, Shadow travels home, only to encounter the bizarre Mr Wednesday, who claims to be a refugee from a distant war, a former god and the king of America. Together they embark on a very strange journey across the States, along the way solving the murders which have occurred every winter in one small American town.But the storm is about to break . . .Disturbing, gripping and profoundly strange, Gaiman's epic novel sees him on the road to the heart of America.
Information
Format: Paperback
Pages: 736 pages
Publisher: Headline Publishing Group
Publication Date: 19/09/2005
ISBN: 9780755322817
Other Formats
Paperback from £7.85
EPUB from £1.99
Hardback from £15.79
Free Home Delivery
on all orders
Pick up orders
from local bookshops
Reviews
Showing 1 - 5 of 34 reviews.
Previous | Next
Review by felius
16/06/2015
I think a great book is one that grabs hold of some part of your mind and won't let go. This is a great book.I'd encountered many of the themes before, but the manner in which they've been intertwined into a cohesive whole is new. This was thoroughly engaging, and I'm now very much looking forward to reading the rest of this author's work (after having previously only read <i>Good Omens</i>, which he co-wrote with Terry Pratchett).
Review by Clurb
16/06/2015
I simply do not understand why people get so excited over this book. It struck me as average, forgettable, uninspiring fantasy and has unfortunately put me off Gaiman for a while.
Review by SimonW11
16/06/2015
Imagine a contemporary urban fantasy written by Bill Bryson.Shadow, fresh out of prison is recruited by Mr Wednesday to help him recruit a bunch of half forgotten gods from various religions scattered throughout America for a final showdown. Its a satisfying read I seem to remember Neil Gaimen calling it ihis first real novel. certainly it is the book we all knew he was capable of producing if he could just stop mixing his media.
Review by francescadefreitas
16/06/2015
This is why I love to read. Every once in a while, I find a story that fills me with wonder at every turn. This was an absolute joy to read.Oddly, the US security agents were not as fond of the book as I am, it went through more through scanning than my husband's laptop. One person even read five pages. Making sure it was a real book? Making sure there were no plots against actual American Gods? Or maybe she's managing to read her way through the whole book, one stop and search at a time.
Review by krypto
16/06/2015
Hmmm. Hmmm. I found none of the characters likeable, I never felt particularly engaged and I suspect many allegories went over my head. But there's undeniably something about it. Neil Gaiman's world has an atmosphere both creepy and wondrous that I can still feel months after reading. The man has a way with the words. I have a feeling I'll be coming back to this one.