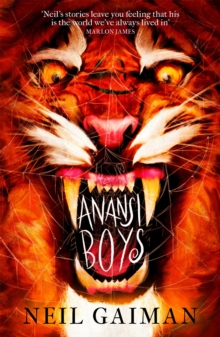 Description
From bestselling storytelling legend Neil Gaiman, author of American Gods and The Ocean at the End of the Lane, Anansi Boys is a kaleidoscopic journey deep into myth that will thrill Game of Thrones devotees and Terry Pratchett fans alike. 'Exhilarating and terrifying' Independent.Fat Charlie Nancy is not actually fat.
He was fat once but he is definitely not fat now. No, right now Fat Charlie Nancy is angry, confused and more than a little scared - right now his life is spinning out of control, and it is all his dad's fault.If his rotter of an estranged father hadn't dropped dead at a karaoke night, Charlie would still be blissfully unaware that his dad was Anansi the spider god.
He would have no idea that he has a brother called Spider, who is also a god. And there would be no chance that said brother would be trying to take over his life, flat and fiancee, or, to make matters worse, be doing a much better job of it than him.
Desperate to reclaim his life, Charlie enlists the help of four more-than-slightly eccentric old ladies and their unique brand of voodoo - and between them they unleash a bitter and twisted force to get rid of Spider.
But as darkness descends and badness begins is Fat Charlie Nancy going to get his life back in one piece or is he about to enter a whole netherworld of pain?
Information
Format: Paperback
Pages: 480 pages
Publisher: Headline Publishing Group
Publication Date: 08/05/2006
ISBN: 9780755305094
Other Formats
Hardback from £15.79
EPUB from £4.99
CD-Audio from £19.85
Free Home Delivery
on all orders
Pick up orders
from local bookshops
Reviews
Showing 1 - 5 of 11 reviews.
Previous | Next
Review by SimonW11
16/06/2015
a good lighter book set in the same mileu. as American Gods. Fat Charlie Nancy's father who seems to have existed only to embarass his stick-in-the-mud son has died. unknown to him his dad was a god and now the brother he did not know he had has turned up at his door. stealing his girl, upsetting his job and using all those godly powers Charlies just doesn't seem to have inherited.although I read the book I will take a moment to also reccomend Lenny Henry's audio verison.
Review by francescadefreitas
16/06/2015
This was a good, solid, laugh-aloud read. While it wasn't as much of a roller coaster ride as American Gods, it was still a lot of fun. I especially liked the lime.
Review by TPauSilver
16/06/2015
Anansi boys is the story of Fat Charlie Nancy, son of Anansi. The god. As always, Gaiman masterfully mixes the world of myth and fable with the everyday world we see to create a world where the impossible is possible. A world where all the stories are Anansi stories. It's about finding the balance in yourself between the magical, the mystical, and the real and practical. The dream and the reality. It's a great book, would heartily recommend.
Review by Arvoitus
16/06/2015
They're brothers and their dad is a god. Charlie lives a dull existence in London with a boss as corrupt as you can imagine and a nice girl friend with a dragonish mother. Spider is a god as his father is, cool with a nice existence without problem.Dad die and come the problems. The two brothers met for the first time and change each other life in a dangerous mess. All of that in a funny way.
Review by BookJumper
16/06/2015
Typically, I am one to wait a few years between readings of the same book. Not so with this: as soon as I finished it, I dived back into the beginning and re-read the whole first half, eager to increase my understanding and appreciation of the work. It withstood the test: masterfully constructed, "Anansy Boys" is littered with apparently innocuous images, clues, snippets that, re-read in the light of the ending, make you go "aaaaaaaaaah yes I get it now". For exactly the same reason, some people have called it "predictable"; and maybe it is, plot-line wise, but no matter: it's beautifully written, filled with characters you really feel for (in both good and bad ways), contains quite a few funny moments, not to mention that - for once - it is good to see people get what they deserve.