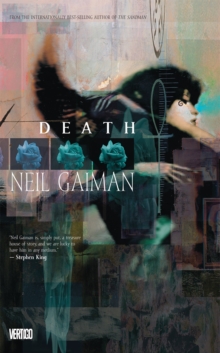 Description
From the pages of Newbery Medal winner Neil Gaiman's The Sandmancomes fan-favorite character Death in a collection of her solo adventures!The first story introduces the young, pale, perky, and genuinely likable Death. One day in every century, Death walks the Earth to better understand those towhom she will be the final visitor.
Today is that day. As a young mortal girlnamed Didi, Death befriends a teenager and helps a 250-year old homeless womanfind her missing heart.
What follows is a sincere musing on love, life, and (ofcourse) death.
In the second story, a rising star of the music world wrestleswith revealing her true sexual orientation just as her lover is lured into therealm of Death that Death herself should make an appearance.
A practical,honest, and intelligent story that illuminates "the miracle of death." Plus,Death's first appearance from The Sandman series, her tale fromSandman: Endless Nights, and much more!
Information
Format: Paperback
Pages: 320 pages
Publisher: DC Comics
Publication Date: 25/03/2014
Category: Fantasy
ISBN: 9781401247164
Free Home Delivery
on all orders
Pick up orders
from local bookshops
Reviews
Showing 1 - 1 of 1 reviews.
Review by catfantastic
16/06/2015
She is arguably the best character from the <I>Sandman</I> comics and would definitely rank highly on my personal "top 10 favourite fictional characters of all time." When I think of "death" as a personification of a concept, <I>she</I> is who I picture. This is a great tribute, containing both mini-series, <I>The High Cost of Living</I> and <I>The Time of Your Life</I> as well as a couple of the short stories from the <I>Sandman</I> comics, like <I>The Sound of Her Wings</I> (beautiful) and <I>Façade</I>. Even though I had read all of these before, I didn't own them - I borrowed them from friends or my local library, so I had no qualms about purchasing this collection. It's great to be able to read these stories again, and bound in a beautiful hardcover. It also includes a gallery of bonus art by some famous comic book artists. Reading this made me nostalgic. I miss <I>Sandman.</I>